What do you know about Decatur Transfer House?
Built in 1896, the Decatur Transfer House is currently located in Central Park in Decatur, Illinois. The Transfer House has eight sides, in the shape of an octagon with windows and doors alternating sides. The doors and windows are influenced arches. Located on the second level of the building is an open-air bandstand, which as a dome roof and ventilator on top. At the peak of the Transfer House is an oversized flagpole.
The Transfer House was a significant building serving as a transfer point for interurban trains and electric streetcars till operations ceased in the 1950s. The site became a gathering location for major events such as president's speeches, such as President Taft's speech in 1911. As time passed on, the city of Decatur began to progress and the Transfer House was becoming a challenge. Due to the traffic flow problems, the Decatur City Council in 1962, decided to physically move the Transfer House to Central Park.
Today the Transfer House serves as a symbol and a site for local communities in Decatur.  Today, the exterior of the Transfer House looks similar to how it appeared in 1896. The most notable change has been the closing of two of the four doors. Landscaping has changed since the movement of the building in 1962 from its original location to the Decatur Central Park and is surrounded by trees, scrubs, and most notably a large water fountain. Many public events gather on the site and is a popular destination for enjoying the outdoors during the summer months.
1911 President Taft's speech.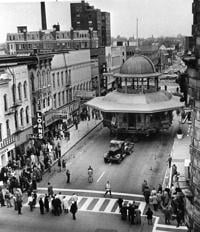 The transfer house being hauled to its new location, 1962.
Macon County Historical Society Museum
References:
http://herald-review.com/blogs/marketing/macon-county-memories-transferring-the-transfer-house/article_716602cc-84fb-11e6-8b8c-57529caf0668.html
http://gis.hpa.state.il.us/pdfs/300011.pdf