Craig Paul Nowak was born in Farmington Hills, MI on April 5, 1983. Nowak currently lives and works in Farmington Hills, MI (2021).
In 2006, Nowak graduated from the College for Creative Studies with a BFA in Fine Arts. While at the College for Creative Studies, Nowak painted invisible murals in classrooms and on apartment walls using Tide Laundry Detergent. The murals could be made visible using blacklight. In that same year, he exhibited various self-portraits at SOFA Chicago (with Nextstep Studio & Gallery), curated an exhibition entitled "Hip Hop's Influence on Art" for the Flint Institute of Arts, and was accepted into "A Show of Heads", an annual exhibition of face-themed art at Limner Gallery, NY.
Laundry Detergent Mural by Craig Paul Nowak, 2006
Nowak moved from Detroit, MI to Chicago, IL in 2007 where he acquired representation with MOKA Gallery. Throughout 2007, Nowak was featured in Art Santa Fe, ArtNOW (Miami, Fl), The Docks Art Fair (Lyon, France), had a solo show entitled "Self" at MOKA Gallery, a solo show entitled "Prized Possessions" at  The Core in Portland, OR
Craig Paul Nowak's solo exhibition "Self," at Docks Art Fair in Lyon, France, 2007
In early 2008, Nowak was awarded a one-month residency with the Chicago Department of Cultural Affairs. Later that year, he attended a three-month artist residency at Mano Y Mente, in Tularosa, NM.
Craig Paul Nowak's art displayed at Mano Y Mente Residency exhibition in Tularosa, NM, 2008
Nowak began Directing Art Effect Gallery in Detroit's Eastern Market in early 2011. The first exhibition was entitled "Welcoming Party". It featured all local artists. Other notable exhibitions include a month long in-gallery residency entitled "Art In Constant Flux", wherein artists were invited to install art and alter their installations throughout the residency month. In addition to being the curator and gallery director, Nowak was also two of the participating artists in this residency. 
Craig Paul Nowak painting a large-scale portrait during "Art In Constant Flux" at Art Effect Gallery, 2011
Art made by Nowak and exhibited under the name "George Jones III" during "Art In Constant Flux" at Art Effect Gallery, 2011
From late 2011 to early 2012, Nowak worked with Sant Fe based stone sculptor, Somers Randolph in a six month self-directed stone sculpting apprenticeship. After his apprenticeship, Nowak became a 2012 artist resident at Red Bull House of Art during their Round III cycle. There, he exhibited a large-scale adaptation of an Andrew Wyeth painting, entitled "Christina's World." That painting later went on to be exhibited at Devos Place Convention Center, during Artprize 2013.
Craig Paul Nowak's painting "Christina's World displayed at Devos Place Convention Center during ArtPrize, 2013
Nowak was featured in the 2013 edition of Imago Mundi  a pet project of Luciano Benneton, the namesake of United Colors of Benneton. Imago Mundi is a catalog of small paintings that are exhibited in Italy and become part of Luciano Benneton's extensive art collection.
in 2014, Nowak was awarded "Best Local Artist" by Real Detroit readers. He also curated an exhibition for Whitdel Arts in the early months of 2014, entitled "GILDED". That exhibition was an homage to the (still living) artist, Gilda Snowden and her immense impact on the Detroit art community. Later in 2014, Snowden unexpectedly passed, prompting Nowak to curate a follow up exhibition at Cass Cafe, entitled, "Gilda Selfies." It was an exhibition of photos that people had taken with Gilda alongside art they made that was inspired by her memory. Snowden was known for being a selfie pioneer within the Detroit Art Community.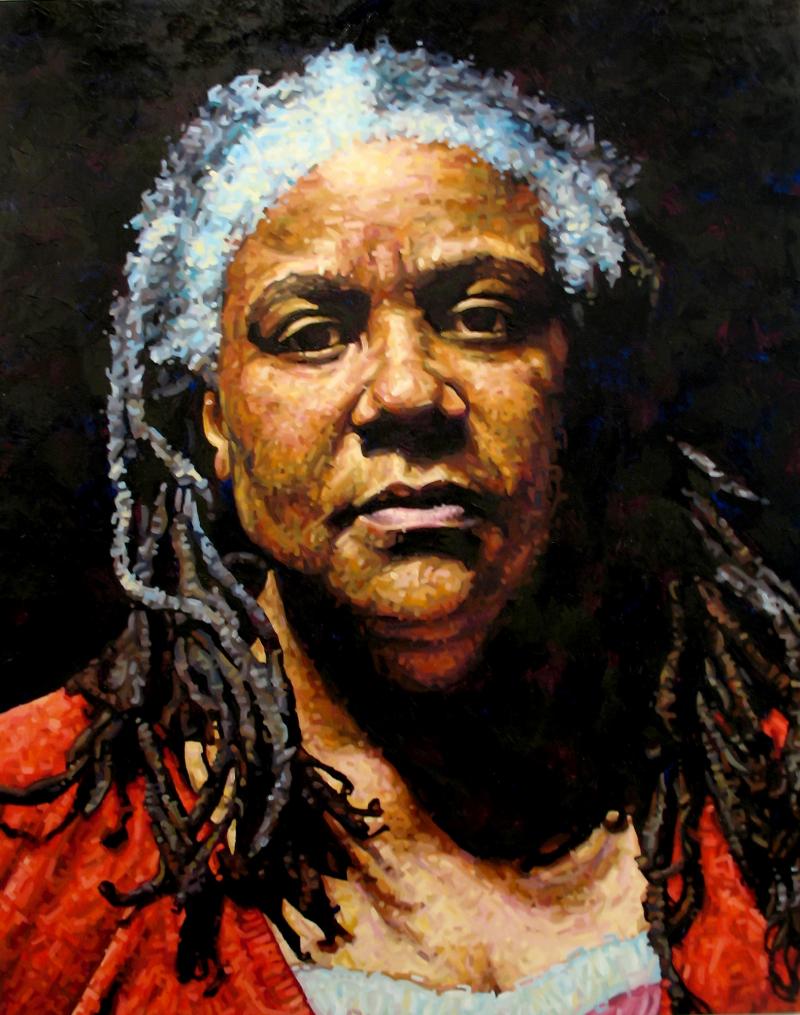 Portrait of Gilda Snowden by Craig Paul Nowak, 2010
Photo of Gilda Snowden standing in front on Craig Paul Nowak's painting, 2010
After the "Gilda Selfies" exhibition and the passing of his good friend Gilda Snowden, Nowak took a hiatus from The States. He organized a self-directed residency with Individuals Lingerie and spent six months painting and animating in Milan, Italy. Nowak painted, drew, and animated orangutan in a failed attempt to raise money for Indonesia Culture Exploration. Nowak also completed a series of Marilyn Monroe inspired paintings entitled "When Greg Shot Jimmy." that were later exhibited at Morpho Gallery in Chicago, IL (2014) and Detroit Repertory Theatre (2014).
Nowak curated an exhibition for Red Bull House of Art entitled, "Re:Semblance ", in 2016.
In 2017, Nowak began teaching at The College for Creative Studies, in their Community Arts Partnership Department.
In 2018, Nowak was accepted into Artprize again. This time he exhibited a large-scale painting collaboration entitled "Dream World." Dream World is a 9ftx20ft landscape painting with smaller paintings sewn to it. The content and imagery was conceived in collaboration with a group of Henry Ford Academy high schoolers. Those students then imagined themselves as characters inhabiting this "Dream World" landscape, which was painted by Nowak. They worked with him to paint their characters, whereafter Nowak sewed their paintings to the larger Dream World landscape. This painting is currently in the collection of The College for Creative Studies.
Craig Paul Nowak painting "Dream World," 2018
From 2018-2020, Nowak taught art through the City of Farmington Hills Cultural Arts Division.
Beginning in October, 2019, Nowak became the Creative Expressions Program Coordinator at Kadima Mental Health Services in Southfield, MI. There he develops a multidisciplinary arts program for persons living with mental health challenges. He has worked in collaboration with The College for Creative Studies, The Detroit Symphony Orchestra, Michigan Opera Theatre, The Detroit Institute of Arts, Matrix Theatre, The Artspace Lofts, Let's Art About It, Drums on The Run, and many more community partners while developing comprehensive and therapeutic arts programming for Kadima clients.
Marc, "SHIT WE'RE DIGGIN': THE LAUNDRY DETERGENT PAINTINGS OF CRAIG PAUL NOWAK" Woostercollective.com, October 11, 2007
Mano Y Mente, "Large Turnout for November 15th Show!" Manoymenteartistinresidence.blogspot.com, December 8, 2008
Craig Paul Nowak, "Art Effect Gallery, The Welcoming Party Catalog" issuu.com, April 22, 2011
Craig Paul Nowak, Art In Constant Flux Blog artinconstantflux.blogspot.com, July 10, 2011
Colin Darke, "Craig Paul Nowak -- Best Local Artist" HuffPost Detroit, February 25, 2014
Alonso Delarte, "Best Local Artist Craig Paul Nowak doing well abroad" Examiner.com, February 20, 2014
Farmington Voice, FARMINGTON HILLS ART INSTRUCTORS' WORKS ON DISPLAY AT CITY GALLERY" Farmingtonvoice.com, September 28, 2018