Overview
Old Town Scottsdale is located on the original townsite of Scottsdale, Arizona. This part of Scottsdale offers boutique shopping where you can collect unique, Southwestern souvenirs, jewelry, and art. For a closer look at Old Town's fine art galleries, join the Scottsdale ArtWalk Thursday evenings for a self-guided art tour and free trolley and horse-drawn carriage transportation around the Arts District. The area is also home to hip eateries, fine dining, and a vibrant nightlife scene. Old Town Scottsdale is known for their eateries and fine dining. When the sun goes down all the restaurants and bars begin to light up. If you are in the mood for a classic night out in Scottsdale, Old Town is the place to go. The nightlife is vibrant and offers some of the best clubs in town. Old Town offers walkable and bikeable options and is community-oriented. Although dance clubs and trendy bars dominate Scottsdale nightlife, there are also Western-style bars and lounges. Old Town is the perfect social destination in Scottsdale, Arizona.  
History of Old Town Scottsdale
Old Town is where settlement and development in Scottsdale began. In 1888, Winfield Scott purchased 640 acres where Old Town Scottsdale is located today. He planted two olive trees on second street which are still standing today. The restaurant Los Olivos Mexican Patio is named after the historic trees. The first business in Old Town was J.L. Davis' General Store, which opened in 1897. In 1904, Sarah Thomas purchased the store, making it the first female-owned business in town. The "Little Red Schoolhouse" in Old Town was built in 1909 at a cost of $4,500 and has had 6 different uses including being a library and chamber of commerce.  Today it's the home of the Scottsdale Historical Museum. Scottsdale was officially incorporated as a town in 1951.  At that time, the population was 2,000. The Sugar Bowl is one of Old Town Scottsdale's oldest attractions; it opened on Christmas Eve, 1958.  Bil Keane, the author of "Family Circus" featured the restaurant in the comic strip several times. 
Weather in Old Town Scottsdale: 
Scottsdale is a warm place to live almost all year round with 330 plus days of sunshine over the course of the year. During the winter there is an increase in population because the temperatures are warmer for eight to nine months; tourists or families from colder climates like to come to visit or stay awhile. Throughout the year there are many things to do in Old Town Scottsdale since the weather is so nice. All the events that are mentioned are either located in Old Town or just a short drive away! Since the weather is nice eight out of the twelve months there is always something to do in Scottsdale(OldTown). There is a plethora of activities, events, and restaurants you can enjoy during your stay!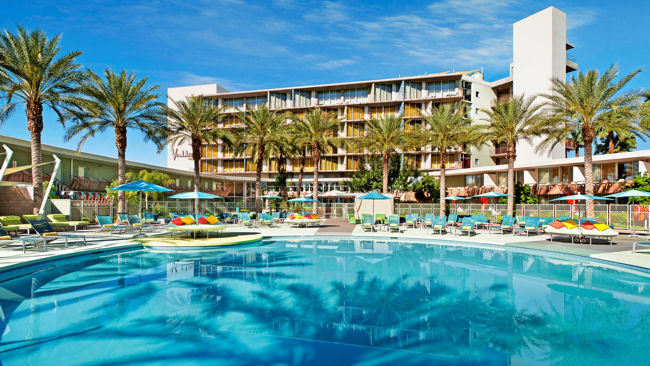 Below listed are the high and lows of each month temperatures in degrees Fahrenheit: 
January-  69/39
February- 73 / 42 
March- 78 /46 
April- 86 / 52 
May- 95 /60 
June- 103 / 68 
July- 105 / 75 
August- 103 /75 
September- 100 /68 
October-89 /56 
November- 78 /45 
December-68 /38 
Hotels/Airbnb: 
Old Town has some of the coolest hotels and amenities! Take a five-minute drive or a short walk to the best food, drinks, and shopping. There are a wide variety of places to stay from high-end hotels to cozy and intimate Airbnb. Old Town is a great place to bring your family and friends for special occasions such as bridal and groom parties. Some of the hotels (pre covid) host fun pool parties on the weekends with DJs, food, and drinks. If you are looking for a more fun or hip place to stay, the W Hotel is a great place to consider. If you are looking for a more business/family-friendly hotel, the Valley Ho has a more laid-back atmosphere. The top five hotels and Airbnbs on the list below were chosen based on price, reviews, and location for you to enjoy your experience in or near Old Town. If you decide to come to see one of the major events in early February, the Phoenix Open, which is a full week of watching "THE GREATEST SHOW ON GRASS" in Scottsdale at TPC then kicking back in Old Town Scottsdale by having drinks and dinner with family and friends, the list of hotels and Airbnbs are perfect for Tourist who comes for the annual Pheonix Open to pick from.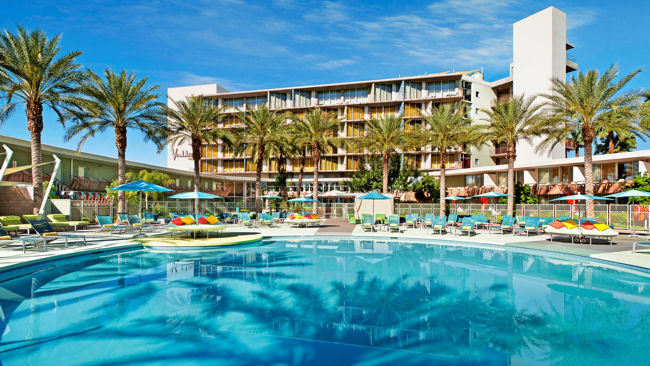 Hotel: 
#1: Hotel Valley Ho
#2: Winery Suites of Scottsdale 
#3: W Scottsdale
#4:Hilton Garden Inn Scottsdale Old Town
#5: The Phoenician, a Luxury Collection Resort, Scottsdale 
Airbnb's: 
#1: Historic Old Town Plaza
#2:Walking distance to Old Town Scottsdale - Guest-home provides flexibility- 
#3: Scottsdale Home with a View- #4:The Famous Old Town Scottsdale Penthouse 6BR 5,000 SF W/ Hot Tub, Pool Table, 2000SF Balcony- #5: WALK TO Old Town, Fashion Square + Heated POOL- 
Popular Restaurants in Old Town
All the breakfast, lunch, dinner, and snack restaurants offer a large variety of choices for you to choose from when wanting a fun meal out on the town. The list offers a variety of foods such as authentic Mexican, great Italian, creative Asian cuisine, and last but not least old fashioned ice cream. The list ranges from moderately priced dining to high-end dining. Most places offer both indoor and outdoor seating; this allows you to choose where you want to sit during the year because the restaurants are very accommodating to the weather and want the customer to have an enjoyable experience. A lot of the restaurants in Old Town you can visit for breakfast, lunch, or dinner depending on what your plans are for the day/night out. The restaurants also offer a wide variety of food options for all age groups. In Old Town Scottsdale on different nights of the week and weekends restaurants attract different types of groups by offering an assortment of deals such as happy hour, family night, and 25% take out Tuesday. 
Breakfast:
There are a wide variety of breakfast eateries to choose from in Old Town Scottsdale. Each of the breakfast or brunch spots have great atmosphere, ranging from very casual to even catering to birthday parties. These breakfast places tend to be busier during the weekends and during peak seasons.  
The Breakfast Club

Original Chopshop

 

Culinary Dropout

Daily Dose Old Town Bar &  Grill

The Mission

Olive and Ivy

RnR Gastropub 
Lunch:
Lunch places are similar to breakfast, in that many spots include brunch menus to enjoy a fun weekend out with old and new friends visiting the area for the first time or just enjoying the area downtown as locals. A lot of the lunch restaurants do not open until 11 am, so it is another option if you are not in the mood for breakfast foods. 
Arcadia Farms Café 

Bootleggers Modern American Steakhouse

Buca di Beppo

Original Chopshop

Culinary Dropout

Daily Dose Old Town Bar &  Grill

Diego Pops

Frank and Lupe's Old Mexico

The Grapevine  Restaurant and Bar

Grimaldi's

Los Olivos

The Mission

Olive and Ivy

The Pita House

Pizzeria Bianco

Pure Sushi

RA Sushi Bar  Restaurant

Rehab Burger Therapy 

RnR Gastropub 

Salty Senorita
Dinner:
Dinner in Old Town Scottsdale is always a great success! Each restaurant offers specialty drinks for all parties involved; if you are going to have a fun night out and drink, Ubers and Lyft's are always available in the area, or your hotel will have transportation. On the weekends all of the restaurant are booked and packed with all locals, tourists, and college kids wanting a fun night downtown. On special occasions like anniversaries, birthday parties, graduation restaurants like Maple and Ash give you your own menu with a fun phrase on it for you to enjoy your celebration and let them take care of you. 
AZ 88

Bandera

Bootleggers Modern American Steakhouse

Buca di Beppo

Café Monarch

Citizen Public House

Culinary Dropout

Daily Dose Old Town Bar &  Grill

Diego Pops

FnB

Frank and Lupe's Old Mexico

The Grapevine Restaurant and Bar

Grimaldi's

Jewel of the Crown

Los Olivos

The Mission

Maple and Ash 

Old Town Tortilla Factory

Olive and Ivy

The Pita House

Pizzeria Bianco

Pure Sushi

RA Sushi Bar  Restaurant

Rehab Burger Therapy

Roaring Fork

Salty Senorita

Tommy V's Urban Kitchen and Bar 
Snacks: 
Old Town Scottsdale has some of the best and one-of-a-kind sugary spots for you to enjoy something sweet or on the go while browsing downtown! The Ice Cream and coffee shops range from original flavors to exotic flavors to excite the locals and tourists. 
Gelato Classico Café

Gelato Spot

Old Town Creamery

RnR Gastropub 

Shakes and Cones

Sugar Bowl Ice Cream Parlor
Drive down Scottsdale road and you will encounter many popular eating destinations. Old Town Scottsdale is, of course, a destination for both tourists and local food lovers. If you look past the crowded restaurants you will find some of the neighborhood's real gems. From a restaurant that embodies the spirit of the local and seasonal dining trends, to a spot revitalizing the fine-dining experience, Scottsdale's best restaurants are sure to impress.
 
How COVID 19 affected Old Town Scottsdale- 
When COVID hit Scottsdale back in March of 2019 the whole community shut down due to the governor's orders. Since the many lifted quarantine bands of COVID, Scottsdale has been a huge hot spot for locals and travelers. When you visit Old Town Scottsdale and all it has to offer, the rules still apply such as wearing masks and standing 6 feet apart. Each restaurant, store, and bar has implemented rules such as the 6 feet apart signs on the floor, plexiglass, having multiple signs that state "MASK IS REQUIRED FOR ENTRY" and 50% dining capacity for both indoor and patio seating. Since COVID all restaurants have been struggling because of the limited seating space, however, this allows both customers and restaurants to prioritize take out and increase the number of orders. It is important to support local businesses and stay safe within the CDC/Governor's  guidelines. Since bars are at low capacity big fancy dinner parties are a more popular choice for all types of celebrations. 
Popular Clubs and Bars
Beverly on Main

Boondocks Patio and Grill

Bottled Blonde

CAKE

Chrome Nightclub

Coach House

Dakota

Degree 270

The District

Geisha A Go Go

The Grapevine Restaurant and Karaoke Bar

Hifi

El Hefe

Livewire

Maya Day and Night Club

The Mint

Old Town Tavern

Pattie's Bar and Lounge

Rockbar Inc.

Rouge

Wasted Grain
 Take a walk in Old Town Scottsdale at night and you will find a city that comes alive. When it comes to nightlife, nothing quite says fun like a large dance floor alive with people and good music. Scottsdale dance clubs offer a variety when it comes to dancing and music. Scottsdale has become one of the Southwest's top destinations for nightlife. Whether you are looking for a pricey bottle service or a casual lounge there are plenty of options!
Popular Shopping
 

Amy Inc

Antique Trove

The Angel Store

Artisan Market

Beverly Moore Handmade Jewelry

Bischoff's Shades of the west

Buffalo Collection

Classy Jazzy

Fashion by Robert Black

Fifth Avenue Shopping District

The Garage

Henna Shoppe

Kactus Jock

Marshall Way Arts District

The Museum of Contemporary Art

Paradise Valley Florist

Oh My Dog! Boutique and Spa

Old Town Candy and Toys

Old Town Farmer's Market

Old Town Trading Co

Saba's Western Store

Scottsdale Fashion Square Mall

Scottsdale Pen

Scottsdale Waterfront

Stephanie's

Super Chunk Sweets and treats

Sphinx Date Ranch

Twice Designer Resale

Vintage Misty
Scottsdale is known for many things, and one of them is shopping venues designed to entice your inner shopaholic. Old Town Scottsdale is the heart of the city's historic downtown and home to a diverse array of shopping. Here you'll find everything from Southwestern shops, artisan boutiques, and high-end retailers. Old Town Scottsdale's 5th Avenue Shopping District offers a representation of what you'll find in Old Town. This friendly district is home to independent art galleries and jewelry and fashion boutiques. Everything around you is walking distance so you are able to hop from store to store. For the convenience of all your favorite high-end designers under one roof, plan a shopping day at the Scottsdale Fashion Square Mall one of the Southwest's premier shopping destinations. Here you'll find more than 225 stores and restaurants, including 40 designer brand stores that are the sole representatives of their brand in Arizona.
What to do:
Check out what DJ's are performing, food festivals, Art Gallery showings and many other popular events here: https://www.eventbrite.com/d/az--old-town-scottsdale/events/
Book a Party bike and tour old town here: https://www.arizonapartybike.com
Visit Old Town farmer's Market: http://www.arizonafarmersmarkets.com/pageScottsdaleOldtown/ScottsdaleOTsat.htm
Websites for further inquiry
http://www.5thavenuescottsdale.com/shops/
Sources
https://www.experiencescottsdale.com/downtown/
http://www.scottsdaleaz.gov/events
https://www.experiencescottsdale.com/weather/