Location

Kaiserstraße 74, 60329 Frankfurt am Main

(near Frankfurt Hbf, the main train station in Frankfurt)

Hours

Mon-Sun: 11:30am-11:30pm

Price

11-20 Euro

Wifi

Yes

Phone

069 27220791
Recommendation:
If you are a spicy food lover, or if you just want to challenge yourself or build up your spiciness tolerance: pick the names with the pictures of chilies next to it, for instance Xiaomian, Spicy soup (for hotpot), and Zajiangmian
If you are a beginner in the spicy world, you will also enjoy hotpot with the Chicken soup (for hotpot)! 
Learn about your food! 
What is Xiaomian (小面): Even though hotpot is considered the most popular food in Chongqing. Some Chongqinger disagree with that as they consider Xiaomian as the most popular food there, especially for breakfast. 
             A short video of Chongqing Xiaomian:
             https://www.youtube.com/watch?v=A-XDvfyzcIs
What is Hotpot (火锅): It is a simmering pot of stock in the middle of the dining table, where you can put almost anything you like in it, such as dumplings, lamp, beef and etc. It's very popular in Asia and people mostly like to invite friends and family to share Hotpot. The fun part of hotpot is that you are the diner and the cook at the same time. You never turn off the fire until you stop eating!
            A documentary of Chongqing hotpot from a Bite of China (starting from 9:33) : https://www.youtube.com/watch?v=dO2h9jTU3oA
What is Chongqing (重庆): Chongqing is a city located in southwestern China and is one of the five major national cities in China. One of the most well-known food in this city is their spicy Huoguo/Hotpot. Based on an unofficial research, one out of ten Chongqing residents' career is related to Hotpot and there are 49 million people in this megacity. The residents love to enjoy hotpot with cold beer in the summer. Chongqing has one of the warmest summer in China. The temperature could easily exceed 40 Celsius degrees for up to a week there.
---
Menu & Pictures: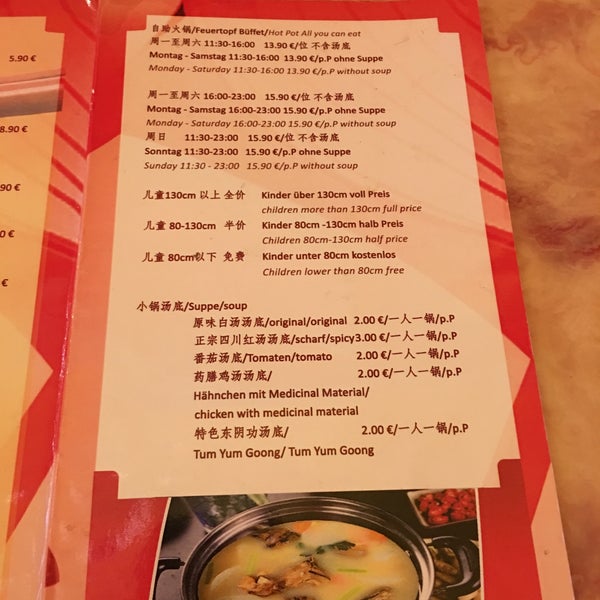 Interesting "Rules" in Chinese