William Peace University (WPU) is a small Presbyterian liberal arts college in Raleigh, North Carolina . The school was named for William Peace, who contributed eight acres and $10,000 toward the establishment of a Presbyterian school for girls. 
The women's college was chartered in 1857 as Peace Institute. The name was eventually changed to Peace College. The school's underwent a third name change to William Peace University in 2012, after administrators made a decision to admit men to the school a year earlier. 
A view of WPU's main entrance 
The school, which now has 21 acres in downtown Raleigh, has more than 30 student clubs and organizations. 
It offers some sort of financial aid to almost every student and  more than 90 percent of the University's graduates get jobs or are accepted to graduate school within a year of graduation.
The school's sports teams compete in the USA South Athletic Conference Division III. Women compete in six sports including basketball, tennis, soccer volleyball and softball. Men's sports, which were added in the 2013-14 academic year, include baseball and soccer. 
Degree Programs
WPU offers 24 majors, exclusively for undergraduate students.
Bachelor of Arts (B.A.) degree in Anthropology, Biology, Communication, Criminal Justice,Education, English, Environmental Studies, Global Studies, Liberal Studies, Political Science, Pre-Law, Psychology, Simulation and Game Design, Theatre and Writing
Bachelor of Science (B.S.) degree in Biology and Business Administration
Bachelor of Fine Arts (B.F.A.) degree in Musical Theatre
Additional degree programs, through the William Peace School of Professional Studies, are available for adult students age 24 and up. Options include [email protected], evening and online enrollment.
 
Partnerships
WPU is a member of Cooperating Raleigh Colleges (CRC), a six-school consortium that links the resources, interests and ideas of its Wake County member institutions. Full-time and School of Professional Studies students are eligible for CRC benefits, including no additional costs to enroll in classes at participating institutions and a direct library loan program from all member schools.
Fellow member schools are Meredith College, N.C. State University, Saint Augustine's University, Shaw University and Wake Technical Community College.


Architecture
The Main Building is an impressive Greek Revival structure with Italianate accents. Used during the Civil War as a hospital, it then became a Freedman's Bureau. During Reconstruction, the building was reclaimed for use as a girls' school.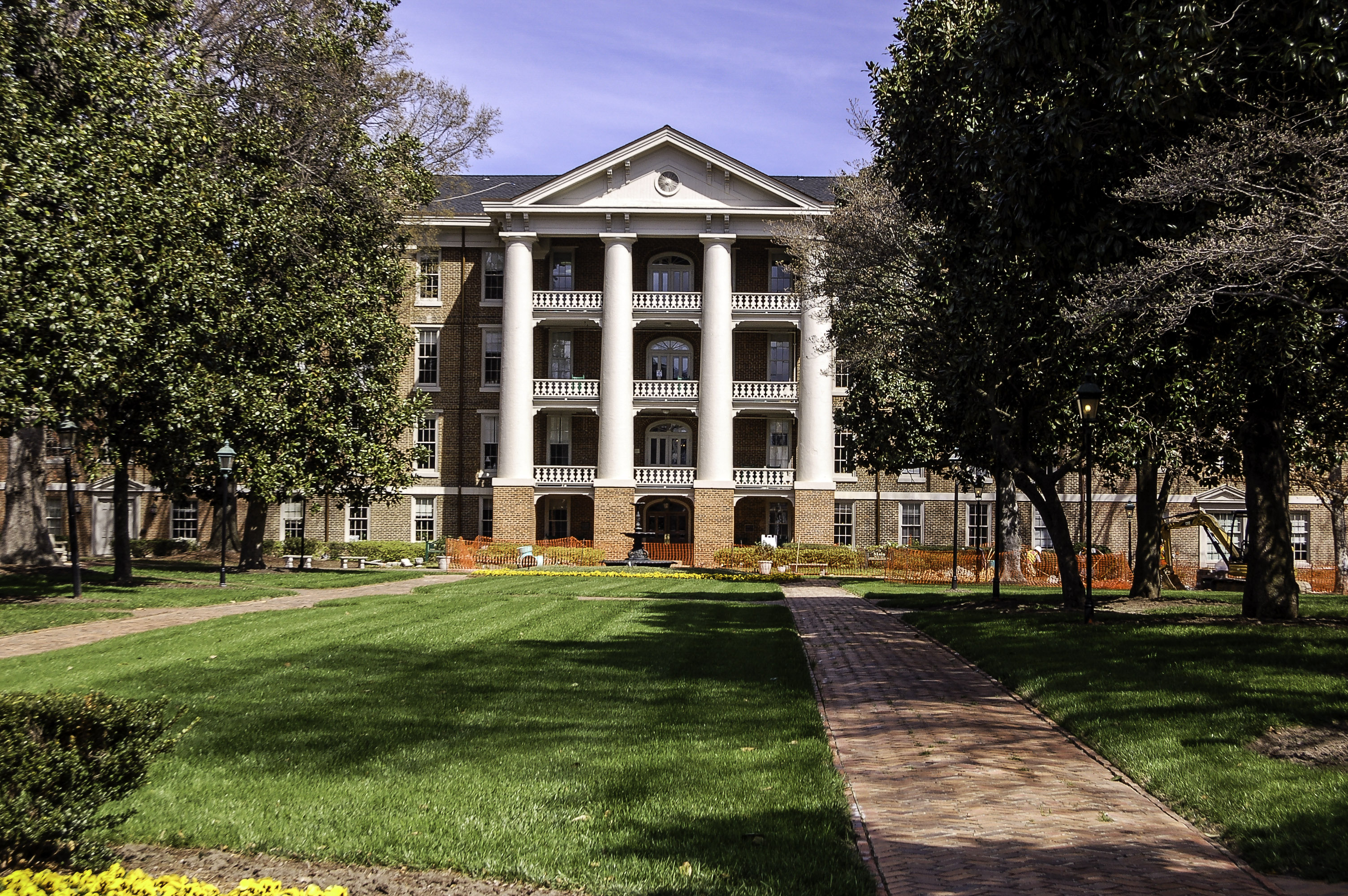 A view of WPU Main Campus
 
 Controversy over Coed Change
On June 23, 2011, the college announced that the school would become coed in the fall of 2012. It also decided to lower tuition and announced the college would be renamed William Peace University.
Some alumni were upset with the change because they felt it went against the wishes of William Peace, who gave money and land to be used for the education of women. 
In one of Several protests, about 200 Peace College alumni and their families tossed roses into the college's fountain. Protests also included picketers outside the campus gates. 
A group of alumni was so concerned about preserving the school's legacy, it formed a committee and hired a Raleigh attorney and public relations and political consultants.
Photo courtesy of News and Observer
In 2013, the school also decided to use some of its endowment to purchase neighboring shopping center Seaboard Station, which raised eyebrows among donors. 
Location and Neighborhood
WPU's 21-acre campus is situated on the northern edge of downtown Raleigh. Surrounding neighborhoods include Mordecai Village and Glenwood South.
The streets bordering the campus are:
Delway Street, to the north
North Blount Street, to the east
Peace Street, to the south
Halifax Street, to the west
The university's Ragland Tennis Courts, comprising six hard courts, are adjacent to the campus on Halifax Street.
The campus is one block west from Raleigh's sole branch of Krispy Kreme donuts. Other off-campus dining options within one block include J. Betski's, 18 Seaboard, Yellow Dog Bread Company, and The Station at Person Street.
Photo by J. Schwallerweb, Capital City Camera Club
courtesy of Preservation North Carolina
Address
15 East Peace Street
Date
ca. 1861
Style
Greek Revival/Italianate
Architect
Unknown
Local/National Designations
Raleigh Historic Landmark
National Register of Historic Places
Numbers at a Glance
Enrollment (Fall 2014)
1,076
Student Body
65% Female, 35% Male
Number of Majors
24
Student-to Faculty Ratio
13: 1
Campus Size
21 acres
Endowment (2015)
$36,319,561
Tuition/Fees (2015–16)
$25,850
Acceptance Rate (Fall 2015)
63%
4-Year Graduation Rate (2005)
31%
Alumni
9,000