Twin Peaks and the Sunset, as seen from the Mission (June 2008)
Bernal Heights (July 2007)
San Francisco is notorious for its fog. The fog most often descends on the area of the city west of Divisadero. However, it's oft-found covering the entire peninsula, even on sunny summer days! For warmer, sunnier weather, head to Marin or the East Bay.
Gifs of Fog
Here's an animated gif of the fog eating Bernal Heights: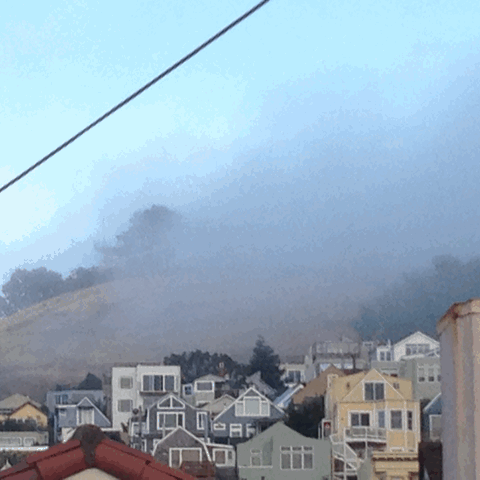 By Burrito Justice
Fog on Twitter
@karlthefog is the official Twitter account of the San Francisco fog.
Fog Maps
http://whereisthefog.blogspot.com/ has cool fog maps of SF.
Fog Poetry
(by Kathleen Gilheany, Broker, San Francisco, CA)
Here is the real deal

re: micro-climates in San Francisco.

Fog comes in from the west and the north.

Neighborhoods protected by hills blocking winds
from the north and the west are the warmest.

Telegraph Hill, the oldest neighborhood in SF, is also the warmest.

On some August afternoons Telegrah Hill can be as much as 25 degrees warmer
than Ocean Beach, which straddles the Outer Richmond and Sunset -
the coldest neighborhoods in San Francisco.

Nob Hill is the windiest. Bad Hair Neighborhood.
Russian Hill shunts the wind from the North, right down Taylor Street.
and blocks the cold air from reaching Telegraph Hill which hugs the Bay.

On a mildly foggy day, the city is cut in two by twin peaks.

West of twin peaks = fog.
East of twin peaks = sun.

Haight Ashbury will be cold,
the Lower Haight, sheltered by Twin Peaks
and Buena Vista Park, will be warm.

so the futher East and South you get,
the better the weather gets better,
with the exception of Telegraph hill,
the warmest cove.

West of Twin Peaks you find more control freaks.

East of Twin Peaks you find more artists and creatives.

Microclimates are funny that way.