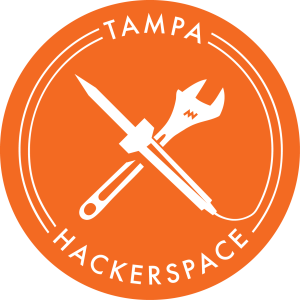 Add a caption Tampa Hackerspace is a non-profit, membership-driven workshop.  "We provide equipment, classes, and mentoring for many types of projects. Some of the projects our members work on: aquaponics, robotics, Arduino, Raspberry Pi, Internet of Things (IoT), electronics, ham / amateur radio, wearable electronics, home automation, microcontrollers, quadcopters, satellites, metal machining, Bitcoin and other alternate exchanges, computer security, photography, sewing, remote controlled aircraft, LED lighting, cosplay, steampunk, video and arcade gaming, 3D printing, art, etc. 
"On most Tuesday evenings, we hold an Open Make Night where guests can come meet members, tour the space, get advice, etc. If Tuesday doesn't work for you, contact us to make other arrangements or ask any questions."
Kids Open Make is held approximately twice a month on Sundays. Families have access to our space, project kits, materials, and hand tools to create, explore, and learn! Parents must stay with their children to assist with projects.