Toronto Parks are not Dumps!
公园不是转储 !
Main Strike wiki page: TOStrike
Wednesday July 22 2009
Monday July 20 2009
Thursday July 16 2009
The Friends of Campbell Park are holding a rally to say Parks Are Not Dumps! on Thursday July 16, 2009 between 5 p.m. and 7 p.m.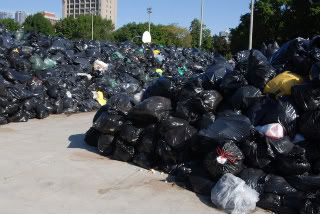 Monday July 13, 2009 at 5 p.m.
Moss Park
Hello Councillor Rae
As you may or may not know, we are planning a rally today at Moss Park at 5pm to oppose the temporary dump in Moss Park and to have it immediately closed.
We believe that Parks are Not Dumps.
I was reminded yesterday of your past support of parks and green spaces from your 2006 re-election campaign brochure (which I have attached here) where you specifically address the importance of parks.
Incidentally I am also quoted in that same re-election brochure "Kyle and his office have worked with our neighbourhood to bring life back to Moss Park …..His office knows how to get results".
It is from that past support that I formally invite Councillor Rae to our rally at 5pm today.
There are no picket lines to cross at Moss Park and I can assure you Kyle that you will be among friends and neighbours.
While it is easy to offer your support of parks in the good times, demonstrating your support in difficult times is not always easy, but then again there is never a wrong time to do what is right.
We welcome Kyle's show of solidarity to the citizens of Toronto who have been displaced from their park.
I hope to see you tonight.
Best regards
Perry Missal
Message from Monica Gupta
Hi all,
Although the temporary dump site at Christie Pits Park is not accepting any new garbage, we still feel strongly that NO PARK should be used as dumps during this strike.
Moss Park is a large park located between Jarvis and Sherbourne north of Queen St. E.
Moss Park is surrounded by Toronto's largest homeless community including Fred Victor Centre, Salvation Army and Good Sheppard. There are many low income buildings that surround the park and it is also home of the John Innes Recreation Centre. During the current strike many families have been left scrambling for summer camps and in this area there is a noticeable number of children hanging around without any supervision. Their (2yr old) basketball court has been turned into a dump.
The community around this park is one of the most marginalized people in all of Toronto and now is home to one of biggest downtown temporary dumps.
Please join us at a rally on Monday July 13th at 5p.m. NO PARKS ARE DUMPS!
We are encouraging people from all of Toronto who are opposed to seeing our Parks turned into dumps to join us in protecting what little green space we have.
Monica Gupta Chair Friends of Christie Pits Park (Friends of all Toronto parks) http://www.christiepits.ca
Saturday July 11 2009
Monday July 6 2009
Sprayers on
As you will probably know, yesterday (Sunday) afternoon, the City's pest control contractor entered the Christie Pits Dump to spray insecticides and disinfectants. He came back again to spray a second time at 11:00 p.m. He returned a third time to spray this morning. And he is planning to return again tonight.
According to the Health Hazard Order passed by the City, and according to the sworn testimony given by the City's Public Health Inspector at court on Saturday, it is the contractor, not Public Health, who assesses whether spraying is indicated; the subsequent spraying is done by the same contractor. I expect that the contractor is paid for both.
—
I took a walk around the park this morning at 8:00, the Organic Garden is so beautiful. A small detachment of starlings was hopping through the stalks, pecking at grubs and worms, robins were in the grass and a magnificent red-winged blackbird spread its wings in the sun, perched on a bamboo rod, ready to fly off just before the busily winding beanstalks would trap him.
Boris
TOStrike Day 15
Sunday July 5 2009
Christie Pits Dump Site Closed: 7:00 p.m. Summer '09 wreath laid
Summer '09 The Christie Pits Park Temporary Garbage Drop Off Site was Closed this evening moments after 7 p.m.
A wreath bearing the words, "Summer '09" was laid at the gate of the drive way to the Christie Pits Park Ice Rink, which is now an open air landfill dump site.
The site is now legally closed to new garbage.
The 80 plus tonnes of garbage already dumped in the hockey rink, will remain in the park until the end of the TOStrike.
Local residents are concerned about illegal dumping in and around the site of the ice rink.
Every night thus far, has seen people throwing garbage over the hockey rink fence.
Others who arrive at the Christie Pits Dump site, not knowing it is now closed, may be tempted to simply dump their garbage at the closed gate.
The "Summer '09" is in reference to Summer of 2009 that Toronto and Torontonians have lost due to the TOStrike, many parks, public swimming pools, summer camps, and more, have been directly affected, if not a total write-off.
Afternoon
Dump closing to new customers....TwitPic by Tom Fo.
Saturday July 4 2009
Representation before the Ontario Superior Court of Justice
In the Case 09-CV-382349 City of Toronto vs. CUPE LOCAL 416 and OTHER PRESENTLY UNIDENTIFIED PICKETERS
Boris Steipe: As a resident living a few steps from the temporary garbage dump in Christie Pits, I have witnessed the ongoing picketing activities and can comment on the community involvement. I have observed how a truck labelled with Orkin Inc. attempted to enter the site on Sunday, June 28. At this time citizens were present with signs and fliers to inform those who wished to dump their garbage into the park that alternatives exist, in particular at the transfer stations. The Orkin employee refused to answer our questions what he was going to spray, in his own words such information would not be provided to "common citizens". Residents and other concerned citizens then prevented the access of the truck to the site by standing on the sidewalk.
I then proceeded on my own private initiative to seek information on the pest control protocol from the city and three MSDS sheets were provided to me on the next day by Mr. Reg Ayre. I posted these MSDS on the Google mailing list of our neighborhood community group, Friends of Christie Pits Park, a group that is normally active in organizing pizza nights in the park and recently an organic community garden; many of our members are however opposing the garbage dump in the park.
After studying the medical literature available to me, I concluded that the substances to be applied by the city - Permethrin, Benzalkonium chloride and Difethialone - are considered reasonably safe for humans in Public Health applications. There are however environmental concerns and off-target effects of these toxins. I have summarized this information and again posted it on our mailing list, on Canada Day, July 1.
I have further learned that the stagnant water that is pooling in the ice rink and in part escaping through cracks is not only laden with these pesticides and disinfectants, but poses unique and unpredictable hazards in and of itself. I have come to the conclusion that while the spraying of pesticides and disinfectants may mitigate the situation, it will not eliminate the hazards to human health and to the environment that currently exist in Christie Park and likely in the other parks, where the city is operating temporary dump sites in locations that are not appropriate for the storage of human excrements, household refuse and decomposing organic materials.
Pest control through external spraying cannot solve the problems posed by putrescible garbage that as I have observed is decomposing in leaking trash bags. It can mitigate the problems but they can only be solved through removal.
To my knowledge there is no ongoing picketing action by citizens that would prevent the access of pest control contractors. Citizens - and that includes me - have stated on numerous occasions that we will not be involved in or condone illegal activities. However, in my respect for the law and the interest of the common good, I am firmly committed to the demand that the temporary dump sites must be closed and the garbage removed to professionally managed locations where all hazards can be brought under control.
July 4. 2009
Friday July 3 2009
Breaking News - July 2, 2009
4:30 pm: Govind just finished talking with two officers from the Ministry of the Environment who looked at the site. They did not take any water samples, but simply looked to see if they could identify any obvious points of leakage from the ice rink.
They also informed Govind that the requirement that the City spray pesticides is not enforced by the MOE, but by the City itself!
So, the City has to be satisfied with whether it is meeting its own rules for spraying the site, and ensuring the public's health. But, this is the same City which in its wisdom put a dump site in a hockey rink in a park, 20 metres from residential buildings.
It is difficult to have faith in the Medical Officer of Health, Dr. McKeown, when he has okay'd this site in the first place.
People, especially those close to the dump are encouraged to call the MOE hotline - 866 MOE-TIPS - and make SMELL complaints. They ask you to note the time of day, level of smell, and direction of the wind.
They will come out to investigate each complaint.
Response from Mayor David Miller's office re: complaint for the Christie Pits dump site
Thank you for your email letter. We appreciate you taking the time to write.
The City of Toronto has opened 19 temporary waste sites for disposal of residential and Yellow Bag garbage.
The 19 temporary drop-off locations were selected based on the following criteria:
the site is a City-owned property;
preference is given to existing paved or gravel areas to minimize environmental impacts;
is close to and reasonably accessible by the community;
has vehicular access;
there is reasonable distance away from residential buildings; and
has the capacity to hold a large volume of waste if necessary.
Garbage stored at the temporary sites will be contained within a fenced enclosure. The sites will have 24-hour security and will be monitored by City staff.
The locations will also be managed with professional pest and odour controls. All sites have received approval from the provincial Ministry of the Environment for use as temporary garbage storage sites. Inspectors from Toronto Public Health will monitor the sites to ensure public health is not compromised by the drop off sites.
Once again, thank you for sharing your concerns.
Karen Duffy Office of Mayor Miller
Torontonian's Reclaim Canada Day - Nathan Phillips Square Dump
um... "I have a better idea than a park where the garbage can go" News Reports:
Given that The City has begun to turn to other parks for temporary dumping sites, it is time that we have a city-wide Parks are Not Dumps protest.
This Canada Day bring your children, bring your mothers, fathers, and grandparents and let's celebrate Canada Day in Nathan Phillips Square!
Most importantly, bring your garbage.
We will create a 'temporary dump site' with garbage bags that we bring down ourselves (and take away!).
We can write messages such as Parks Not Dumps, Keep our Parks Clean, & Democracy in the Dumps on these bags.
We need as many people out as possible to let the city know what we think of their decision.
There are numerous better places for garbagbe to go. For example, we could utilize public parking lots, the Exhibition Grounds or under the Gardiner Expressway. Places where children do not play, where people do not garden and where people do not live 50 feet away.
Friends of Christie Pits Park will meet outside Christie Station at 11:30 a.m. on July 1 2009 to head down to Nathan Phillips Square for noon.
Let's have a good time with this! If anybody knows any musicians it would be great to have them out.
Hope to see you all there! And let all your friends and contacts know!
Letter to Deputy Mayor from 16 year old:
Dear Councillor Pantalone,
I am a sixteen year old student and I think I speak for many people in the community when I say that your actions on the matter of the dump site in Christie Pits have been very disappointing.
I was under the impression that you "strongly oppose the use of this location as a dump site and will continue to advocate this position.", yet I have seen no action coming from you and thereby conclude that you have changed your position on the matter.
You are losing the trust of our community and we need to see ACTION NOW, there is still time for action but not for long.
Do not tell us that these matters are not in your hands, a Deputy Mayor who can not control a situation like this cannot control a city.
Let's see action!
—Theo Steipe
Leaked City document reveals NEW Park dump sites
See also the Site Capacity and Perimeter Totals wiki page.
Monday June 29 2009: A leaked City of Toronto document reveals a schedule of new potential secondary dump sites:
If the temporary dump site at Christie Pits Park is anything to go by, a number of the above parks will become new dump sites very soon.
"Phase 3" Tertiary dump sites
It is estimated that if ALL the listed parks are dumps, there is a 174-thousand tonne garbage garbage capacity.
18 Dyas Road North York
30 Northline Road employees parking lot
Alexandra Park
Algoma Avenue Roadway with no curbing, ditched on both sides
Algonquin Island
Allenby Avenue
Amesbury Park Arena
Ancaster Community Centre
Balmy Beach
Banbury Community Centre
Baycrest Arena
Bayview Arena
Bayview Village Park
Beechwood Road to Pottery Road Snow Dump Road
Belbury Park
Blue Haven Park
Bond Street Park
Boulton Drive Parkette
Broadlands Park
Carstowe Road
Cedarbrook Community Centre
Cedarridge Arts Centre
Centennial Park
Charlottetown Community Centre
Chorley Park
Clairlea Soccer Centre
Clarke Beach Park
Colonel Samuel Smith Park
Commander Arena
Commissioners Street
Cottingham Street
Curran Hall Community Centre
Dead end of Skagway to McCowan Road
Dentonia Park Dentonia (east of Dawes), two baseball diamonds and football field
Dieppe Park Memorial Park Avenue (east of Greenwood)
Douro Street King Street to Crawford Street
Driftwood Community Centre
Earlscourt Park
East York Curling
Edithvale Community Centre
Ellesmere Community Centre
Esther Shiner Stadium
Fenside Arena
Flemington Park Arena
Fountainhead Park
Frobisher Avenue
Glebe Manor Square
Glen Long Park
Glen Manor Road
Glen Stewart Park
Glen Watford Community Centre
Glendora Park
Gord and Iren Risk Arena
Goulding Arena
Grandravine Arena
Habitant Arena
Heron Park Arena
Heward Talbot Park Bayview and Eglinton, two baseball diamonds attached to high school
High Park
Highview Park
Humber Bay Park
Irving Chapley Park
Jean Sibulus Park
John Booth Arena
Knobhill Park
L'Amoreaux Tennis Centre
Lamport Stadium
Leaside Gardens
Ledbury Park
Malvern Arena
Maple Leaf Park
Marie Curtis Park
McCords Concrete
McGregor Arena
Memorial Park
Milliken Park
Mitchell Field Arena
Monarch Park
Moore Vale Park
Neilson Park
Northline Road
Northwood Community Centre
Oakridge Community Centre
Otter Creek
Pelmo Park
Pk. Vista & Dawes Road
Pleasantview Arena
Rennie Park
Riverdale Park South
Roding Arena
Rosedale Park West of Mt. Pleasant, south of Whitehall Road
Scarboro Beach Boulevard
Scarborough Arena
Scarborough Centennial Arena
Shawnee Park
Sherwood Park
Skymark Park
Soccer Field behind Morningside Yard Soccer Field
St. Alban's Square Park
Stan Wadlow Park
Stephen Leacock Arena
Tallpines Community Centre
Teddington Park Grass Island
Thompson Park
Todham Park
Todmorden Mills
Trinity-Bellwoods Park
Vanderhoof Avenue
Victoria Village Arena
Viewmount Park
Wanless Park
Wards Island Park
Wells Hill Park
West Rouge Community Centre
Wexford Park Singleton Rd.
Wineva Street
Withrow Park
Woodbine Arena
Monday June 29 2009: 5 p.m. - 7 p.m.
For several hours, regular one way traffic on Crawford Street was halted. One neighbourhood resident had parked his car in the middle of the street, causing a traffic jam from the entrance to the Christie Pits temporary dump site entrance.
It took two hours for one car to make it up the street.
Friends of Christie Pits Park had obtained a list of Secondary Parks and Tertiary city wide site locations to be used as dumps site once the initial 19 were full.
Christie Pits Park Ice Rink is almost full.
A Reclaim Canada Day protest is being finalised by Parks Are Not Dumps!, Friends of Christie Pits Park, Active 13, and other neighbourhood parks' groups for Nathan Phillips Square on Canada Day.
Information Picket: Sunday June 28 2009, 7 am
Photos from this morning
Information Flyer: Tips for limiting and dealing with trash.
Early morning garbage dumper speaking with Friends of Christie Pits Park neighbourhood residents at information picket.
Potential garbage dumper accepts Tips for Limiting and Dealing with Trash information flyer from Christie Pits Park neighbourhood resident and is asked to reconsider dumping garbage in the park.
Alternate non-park dump sites being discussed.
Driver greeted with Parks Are Not Dumps Information Picket.
Photos and Video links
7:00 a.m.:
7:00 a.m.: Friends of Christie Pits Park and neighbourhood residents began an early morning information picket at the entrance to the Christie Pits Park dump site.
Shortly after 7 a.m., cars began arriving at the entrance to the dump site and were greeted in a friendly manner by neighbourhood residents sporting information flyers and picket signs.
Drivers were simply asked to reconsider whether they really needed to generate as much garbage to begin with. Suggestions were presented on composting, ways to reduce garbage, and whether using a public park where children play was the best idea for a garbage dump.
Reactions from people dumping their trash ranged from foul language to expressing frustration with the city, as one dumper said, "What else am I supposed to do?" He was given an information flyer.
The neighbourhood Information Picket continues until 11 a.m.
9:00 a.m.: Film maker Atom Egoyan spotted dropping off a bag of garbage. He said Hi to people on the information picket.
11:15 a.m.: Information Picket by Christie Pits Neighbourhood residents has ended. Car traffic backed up along Crawford Street all the way south from the dump site entrance to Bloor Street.
Public Meeting - Friday June 26 2009
About 150 people attended the June 26 2009 Friday evening public Meeting in front of the Christie Pits Ice Rink, which is now a dump.
Public Meeting Invitation
The Friends of Christie Pits are organizing a meeting Friday, June 26 2009 by the rink at 7:00 pm to protest the dumping of garbage in Christie Pits Park.
We need as many people as possible to send a strong message.
If you can spare an hour Friday evening please come to the Christie Pits Ice Rink.
Deputy Mayor Joe Pantalone has confirmed twice via email that he will be there in person.
We need to so how much support there is in the community that Parks are Not Dumps!.
At the meeting, you can voice your concern about the city's choice of Christie Pits, and the eight other parks:
Sunnyside Park
Caledonia Park
Taylor Creek Park
Earlscourt Park
Etienne Brule Park
Casimir Gzowski Park
Moss Park
Wishing Well Park
being used by the city as dumps. We expect Councillor Joe Pantalone to attend.
We will also talk about what we can still do to have Christie Pits Park removed from the list of temporary dump sites.
We have Joe Pantalone's support on this point, as he wrote to the Friends of Christie Pits in an email: "I will continue to advocate for the removal of the temporary dump."
From the map that the city put out of temporary dump sites, Christie Pits is nearly the only location within the central area of the city. See: http://www.toronto.ca/labour-relations/index.htm#mapdrops
Surely, Christie Pits is not the only possible place within that entire area! The park is planned to receive hundreds of tons of garbage from all over the central city.
We'll talk about what we can do to help Mr. Pantalone have that happen, and to make sure that it will never happen again. Parks are not dumps!
Please forward this message to any neighbourhood lists you may be on.
If you can help with postering your street for this event, pick up some copies of posters from our porch at 763 Crawford Street.
We need help to get the word out.
URGENT tesc News
Hi Eagles officials, players, and supporters,
We are cancelling all playing functions related to the Toronto Eagles Soccer Club on Friday June 26. We are having a gathering/meeting at Christie Pits This evening at 7:00 pm.
We will gather at the top of the hill at the clubhouse with hopes of spreading awareness of dumping at city parks. If the city keeps Christie Pits as 1 of the 19 dumping sites, the Toronto Eagles Clubhouse will be closed for the duration of the dumping.
As a Club we feel that it is unacceptable to make the city parks a dumping zone, not just Christie Pits but all of our community parks.
We are asking for the support of all of our members (coaches, players, parents, family members, and supporters) to be shown tomorrow evening.
Let's show the city we are serious about our youth programs and our city parks.
For the Games,
Jon Mondino Technical Director Toronto Eagles SC
Who decided Parks can be Dumps?
I spoke with Ann in Joe Pantalone's office and apparently the following 4 people are responsible for establishing the list of dumping sites:
Joe Pennachetti, City Manager (416-392-3551)
Geoff Rathbone Gen. Manager Solid Waste Management (416-392-4715)
David McKeown, Medical Officer of Health
Richard Butts, 416-338-7200
I cannot find their email addresses anywhere on the City's site and they are not divulging the info when I call Access Toronto...how ironic!
I'm putting calls in and also emailing Joe Pants' office.
Rita
Tweet reply: http://twitter.com/dominionpundit/status/2348072087 - employee email addresses should be first initial last name @ toronto.ca
FCPP Media Conference - Thursday June 25 2009, 11:30 a.m.:
June 25 2009 7:00 a.m.: Statement from Friends of Christie Pits Park:
Pits Friends of Christie Pits Park would like to know why Deputy Mayor Joe Pantalone changed his mind and thinks it's okay to dump garbage in parks? We are deeply disappointed that Christie Ice Rink has been chosen as one of the 19 temporary dump sites. We have offered several alternatives to parks including municipal parking lots. We strongly believe storing tons of garbage in close proximity to homes and children is totally irresponsible and we will not stand for it!
Notwithstanding the guarantee that Councillor Joe Pantalone gave us only one day ago, temporary fencing has gone up around the Christie Pits Ice Rink, and outside Alex Duff Pool. The city will announce the temporary dump site locations today at a press conference at 11 am. We expect Christie Pits Park to be on the list.
The rink is within the park, and the same issues we raised in our petition still apply. There are more suitable places for temporary dumps than Toronto's parks.
We are asking everyone to call Joe Pantalone's office this morning to ask him why after he said that he agreed with us that parks are not dumps, he has allowed this to go through. Pantalone said just on Tuesday:
"Christie Pits, nor any park, will not be used as a garbage dump. Thank you for taking the time to write and demonstrate how much you care about your community and our City." — Joe Pantalone
YouTube Video - Thursday Morning showing fencing 8 am: http://www.youtube.com/watch?v=t96ZgngLRVY
June 25 Media Coverage
10:15 am
Hi all, Already CBC, CTV, and CFRB news are at the Ice Rink to cover our opposition to Christie Pits being used as a dump. Please come out to show how many people in the community oppose this decision. The decision as to dump locations is not final. We have heard from Joe Pantalone that he opposes Christie Pits as a dump site. As Deputy Mayor he should be able to have all parks removed from the list of temporary dump sites.
Let's see whether he can deliver on his word.
But, we need as many people who are not at work to come out to keep the pressure on!
See you at 11 am.
Wednesday June 24 2009, 8:52 p.m.:
Wednesday June 24 2009, 8:52 p.m.: Skating rink inside Christie Pits Park is seeing fencing being placed around it in advance of it being announced as a temporary dump site.
I can't believe it!
They're planning to use the rink as a temporary dump!
Call Councillor Joe Pantalone and tell him Parks are not Dumps!
Meet at the rink and show your support.
CBC will be here Thurs. At 11am
Meet me on Crawford!
Monica Gupta Chair Friends of Christie Pits Park
---
Parking Lots not Parks
...temporary drop off locations.
Hello All,
The pile of garbage left at Christie Pits Park has been removed by City (non-unionized) staff this morning. It was surprising to me how quickly the City responded to our concerns.
I would like to thank Councillor Joe Pantalone (Deputy Mayor) for supporting our request for not allowing Parks to be used as temporary drop off locations during the strike. Parks are not Dumps!
We have made suggestions to Director of Collection and Litter, Rob Orpin to use Parking lots not Parks as temporary locations. They are currently 'scouting' locations and Friends of Christie Pits Park is committed to not have a repeat of 2002.
Thank you to all the people who have responded and signed the petition http://www.Torontopedia.ca/Parks_are_not_Dumps!
We need to continue to be vigilant in the park and help reduce the amount of garbage in the park. The garbage cans are overflowing and need to be cleaned out and removed. The park doesn't look so great right now....and it's only Day 2!
Please let everyone know to take their garbage home with them when they are in the park to help keep it beautiful.
Thank you,
Monica Gupta Chair Friends of Christie Pits Park http://www.christiepits.ca
Latest News
Message from the City, 9:45 a.m.
Good morning Monica,
the friends do, with Christie Pits.
Above email was sent, Tuesday June 23 2009, 9:45 am by Sonia D'Agostino.
Sonia works in Councillor Joe Pantalone's office.
Monica Gupta is chair of Friends of Christie Pits Park, http://ChristiePits.ca.
June 23: Circa 10:30 am: Site of the garbage dump, is now clear, only our Parks are Not Dumps! sign remains tied to the Utility Pole.
Parks are Not Dumps! Sign tied to utility pole above site of the now cleaned up garbage pile.
Tuesday June 23 2009, 8:52 am
Toronto City Staff cleaning up garbage dump in Christie Pits Park!
Last night CP24 interviewed Nickie who helped get the Christie Pits Community Garden off the ground.
Monica Gupta, Chair of Friends of Christie Pits Park, was interviewed by Andy Barry on CBC Metro Morning.
Hopefully, all the current garbage will be removed.
Trash piles up in Toronto as strike enters Day 2 - Jean Carter/CBC News
Petition Text
To: Toronto City Council
Whereas, the City of Toronto used Christie Pits Park and other city parks as temporary dump sites during the garbage strike of 2002, and
whereas, Christie Pits Park is heavily used by children and adults, and the general garbage stream contains toxic material that leaks out into the surrounding area, and
whereas, the health threat to the community continues after the strike as the residue of pesticides, rodenticides, and other toxic liquids remains in the park close to where children play.
Therefore, we resolve that the Municipal Council of the City of Toronto remove Christie Pits Park and other city parks from the list of temporary dump sites effective immediately.
We further resolve that the city should investigate alternatives away from where children play such as: Municipal parking lots, Allan Lamport Stadium, city land in the portlands, under the Gardiner Expressway, parking lots attached to schools, and leased private lots.
We further resolve that dumping toxic materials in public parks makes no sense. Parks are not dumps!
Sincerely,
Photos
Illegal Garbage already stinks in Christie Pits Park.
This much garbage already in Christie Pits Park.
Background
Hi everyone,
The nightmare of 2002, and the mountains of garbage contaminating the park is set to reoccur, unless we do something to stop it. We need to start doing something now, because after 5 days of garbage interruption, the city will start to open temporary dump locations. At the bottom of this email you can find information about what you can do.
Christie Pits is slated to become a "temporary dump location" in the event that the city workers' strike goes beyond 5 days. For those of us who will never forget the stench, rats, and poisons associated with the hundreds of thousands of tons of garbage in the park in 2002, this must never happen.
As a group, the Friends of Christie Pits Park have decided to take the strongest possible stance against Christie Pits Park (and other City of Toronto Parks) being used as temporary dumps. The reasons for our position are as follows:
Christie Pits Park is heavily used by children. How dumping thousands of tons of garbage within metres a children's play area is the best policy solution beggars belief. Dumping garbage in such a way to divide the park in two guarantees that anyone walking through the park must come into close contact with the stinking garbage.

The reason it is a bad idea for the garbage to be dumped so close to where children play is because we believe it poses health concerns. The garbage dumped in 2002 was composed of many organic and non-organic materials which leaked into the surrounding ground, contaminating the area. The city cannot guarantee that the liquids or the garbage will be non-toxic. Indeed, it is all but guaranteed that the garbage will contain toxic liquids. With every rainfall toxic materials will be leached into the surrounding area.
On top of this toxic situation and health risk, the city in 2002 applied numerous pesticides and rodenticides on and around the garbage and in the park. We do not understand how is it that herbicides can be banned in city parks due to health concerns, yet the city plans to apply much more toxic chemicals abutting a children play area.
The health threat to the community is not confined to the time-period of the strike itself. Our park soon became a stinking mess and unusable in 2002. It was after the strike was over and the garbage removed, that the toxic residue was exposed to toddlers and others using the park. Why would the city purposely plan to contaminate its parks?
For these reasons, no person can reasonably hold the position that dumping garbage in Christie Pits is a 'good' decision. In actuality, it is one of the last places garbage should be dumped in the event of a strike.
We propose the following as better options from the perspective of sharing the neighbourhood burden of temporary dump sites, and keeping garbage out of the city's parks:
Green P - municipal parking lots
City-owned land in the portlands
Under the Gardiner Expressway
Paved parking lots attached to schools
Leased private vacant land, or leased private parking lots
None of these areas are known as high-traffic play areas for children.
We are not taking a position in opposition to temporary dump sites in our neighbourhood. We are opposed to dumping toxic materials in public parks.
PARKS ARE NOT DUMPS!
Sign the Online Petition: http://www.petitiononline.com/fcpp/petition.html
Write, Call, or Email the Mayor and local Councillors:
Mayor David Miller [email protected] Phone: 416-397-CITY (2489) Fax: 416-696-3687 Mail: Toronto City Hall, 2nd Floor, 100 Queen St. West, Toronto ON M5H 2N2
Councillor Joe Pantalone [email protected] Phone: 416-392-4009 Fax: 416-392-4100 Mail: 100 Queen Street West, Suite C47,Toronto, ON M5H 2N2
Councillor Adam Vaughan [email protected] Phone: 416-392-4044 Fax: 416-392-4130 Mail: 100 Queen Street West, Suite C50, Toronto, ON M5H 2N2
Other councillors: http://app.toronto.ca/im/council/councillors.jsp
Call on the Medical Officer of Health to intervene to prohibit dumping of garbage in parks: Dr. David McKeown [email protected] http://www.toronto.ca/health/mohmessage.htm 416-338-7600
Garbage Drop-off Locations
[
Comments
Not much chance of any councillors or MAYOR getting re-elected if they allow this strike to go on much longer and put garbage dumps in the City parks instead of storeing it at the CNE grounds were very few homes are close by.