About Tohono Chul: 
 Tohono Chul is a botanical garden, nature preserve and cultural museum located in Casa Adobes, a suburb of Tucson, Arizona. The words "tohono chul" translate as "desert corner" and are borrowed from the language of the Tohono O'odham, the indigenous people of southern Arizona. Set on 49 acres of lush desert, the vibrant offerings at Tohono Chul awaken your senses. Locals and visitors alike delight in the experience of having nature at their fingertips. Stroll along winding paths past soaring Saguaros, through themed botanical gardens and marvel at a chance encounter with a resident hummingbird. Thirty-eight species of birds make their permanent home here while another 57 migrant species visit seasonally. A variety of reptiles and mammals, from gila monsters to gray fox, may be spotted on the Park grounds. Tohono Chul's botanical collections consist primarily of those plants native to our region or adapted to the American Southwest. They include more than 150 species of shrubs and trees; 300 species of cacti and succulents; and 50 species of wildflowers. In addition, they have the largest public collection of native Night-blooming Cereus (Peniocereus greggii) in the United States!  They have an exhibit dedicated to the people of Tohono O'odham which displays some of the indigenous plants cultivated by Southwestern native peoples for food, medicine, and other The mission of Tohono Chul Park is ohono Chul Park is to enrich people's lives by connecting them with the wonders of nature, art and culture with the wonders of nature, art and culture in the Sonoran Desert region and inspiring wise stewardship of the natural world. wise stewardship of the natural world. 4 necessities of life. Enjoy quiet retreat in the artfully designed relaxation spots sprinkled throughout the lush grounds. Various art and garden exhibits reveal the unique qualities of the Sonoran region and renew a deep appreciation for the treasures of the desert. Tohono Chul is a private non-profit 501©3 whose mission is to to enrich people's lives by connecting them with the wonders of nature,art and culture in the Sonoran Desert region and inspiring wise stewardship of the natural world.
Tohono Chul has a bistro and private areas that can be reserved for private events such as weddings or parties. Tohono Chul is surrounded by lush, green plants in every direction that you look. The bistro has an outside seating area that places you directly in front of the forest of cacti, flowers, bushes, and trees. They provide you the option of doing a small walk through of the garden in order to catch a glimpse of the beauty Tohono Chul has to offer in its entirety. Alongside the bistro, there are Exhibit Galleries and Gift Shops available for guests to walk through. From artisanal to avant-garde, the creations by local artists are influenced by the wonders of the region. Tohono Chul's changing indoor arts and cultural exhibitions are strongly community oriented, and feature community groups and artists of all ages.
The History:
The story of Tohono Chul begins in 1966 when its benefactors, Richard and Jean Wilson, started piecing together patches of the desert that would form its core – ultimately owning 37 acres. In 1968 they purchased the section containing the hacienda-style "West House" known today as the Tohono Chul Garden Bistro (formerly the Tea Room). The Wilsons lived in this house for eight years.
It was during the 1970s that the couple was approached several times by developers seeking to purchase the land for commercial development. They always refused. Jean Wilson told them, "I don't want to sell the land. I don't want it cemented over. I want to preserve it." In fact, when Pima County condemned a strip along the southern boundary of the property in order to widen Ina Road, Dick Wilson demanded that they move every saguaro and replant it on their adjacent property. Some years passed and the two decided that they wanted to start on their next project- a park. At first, they created a small trail and labeled some plants along the way. The path gradually grew into a loop trail meandering a half-mile into the surrounding desert. In 1980, they received a citation from the Tucson Audubon Society for saving the desert green space and opening it to the public. Tohono Chul Park was formally dedicated on April 19, 1985.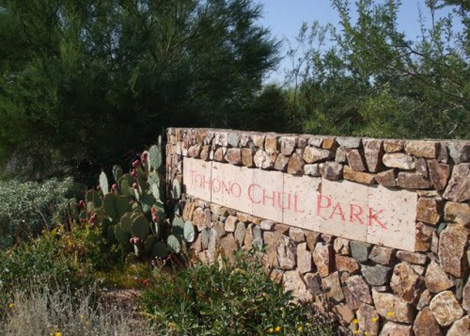 Mission Statement:
The mission of Tohono Chul is to enrich people's lives by connecting them with the wonders of nature, art, and culture in the Sonoran Desert region and inspiring wise stewardship of the natural world.
Vision Statement:
Tohono Chul's vision is to be recognized internationally as the premier center for understanding and appreciation of the Sonoran Desert region through its fusion of nature, art, and culture. Tohono Chul seeks to be an indispensible resource for helping people learn about, celebrate, and conserve our region's natural and cultural heritage, and to be a model institution for other unique regions around the world. Every element of Tohono Chul will reflect excellence and beauty, creating a pleasurable, inspiring and enlightening experience for all.
Core Values:
Love of the Sonoran Desert region: its natural history and it cultural heritage.
Love of Tohono Chul and respect for what it means to visitors, supporters, and staff.
Responsible use of all natural, human, fiscal, and temporal resources.
Respect for all people, their beliefs and cultures.
Excellence and integrity in all undertakings of Tohono Chul.
Dedication to lifelong learning, with special focus on living with the Sonoran Desert and the interactions of people with their environment.
Accessibility and outreach to the community in experiencing the resources of Tohono Chul.
Location:
The site itself offers a dramatic setting for our regional focus. Views of the majestic Santa Catalina Mountains form a backdrop for this natural desert habitat. Its location within existing migratory tracks provides a temporary home for many species of wild, native fauna. Within these surroundings, Tohono Chul has developed thematic displays using its collections to teach visitors about indigenous plants and animals, conservation, desert ecology and native cultures. They are the only organization in our region whose primary focus is on these natural and cultural connections, giving their visitors a unique perspective on the Sonoran Desert. They can be found at:
7366 Paseo del Norte
Tucson, AZ 85704
Hours:
Grounds: 8am - 5pm daily
Shops & Galleries: 9am - 5pm daily
Closed New Year's Day, Fourth of July, Thanksgiving, & Christmas Day
Admission:
Members: Free
Senior: $13
Military/Student (with ID): $13
Adult: $15
Children (5-12): $6
Children (under 5): Free
Sources:
https://en.wikipedia.org/wiki/Tohono_Chul_Park