Introduction
(Image found on this site)

 The University of Arizona Museum of Art (UAMA) is located in Tucson, Arizona and managed by the University of Arizona. Their permanent collection holds 5,958 works of art [1]. While there are collections spanning many different eras, the core collections are from the Renaissance through Contemporary European and United States art [2].
 Its address is 1031 North Olive Road Tucson, AZ. Olive Road however is a pedestrian and bicycle road. It is near Park Avenue and Speedway Boulevard on the UA campus. It is recommended to park in the Park Avenue parking garage, which is free on the weekends, and then to use the pedestrian walkway to cross below Speedway and once through the underpass to take the first staircase on the right to the museum [3].
 
In addition to this, the museum has 2 different gallery sections inside. Throughout the gallery, there are art pieces such as acrylic paintings, digital art, sculptures and other mediums. On the first floor there are many digital pieces and sculptures presented. However, moving your way up to the second floor, there are larger sculptures and videos on display.
Hours/Admissions [3]
Monday CLOSED
Tuesday 9:00 am – 4:00 pm
Wednesday 9:00 am – 4:00 pm
Thursday 9:00 am – 4:00 pm
Friday 9:00 am – 4:00 pm
Saturday 12:00 pm – 5:00 pm
Sunday 12:00 pm – 5:00 pm
Closed University Holidays
 
$8 – General Admission
$6 – Seniors 65+ and groups of 10 or more
Free for Museum members, students with ID, faculty and staff, military personnel, AAM members, visitors with a SNAP card or Tribal ID, and Children. 

History
In 1924, Katherine Kitt, founder of the UA Art Department hosted the first art exhibition at the University of Arizona. In 1933, the gallery was hosted in the library and in 1942 the first major donor came to the UAMA; C. Leonard Pfeiffer a graduate at the UA, sold his stamp collection in order to give the UAMA an art collection. The Kress Foundation lent 25 Renaissance master artworks to the UA in 1951, over 2,000 people attended the exhibition. In 1954, Edward Joseph Gallagher, Jr. established a memorial collection to honor his son. A year later ground was broken on UA campus for the Museum of Art building [4].
A 15th Century Altarpiece from Ciudad Rodrigo, Spain was given by the Kress Foundation in 1960. It is one of the UAMA's highlight pieces. This altarpiece also called a retablo, was made between the years 1480 and 1488, and after 1493 for the city (Ciudad) Rodrigo in the province of Salamanca, Spain. The 26 paintings were primarily created by the artists Fernando Gallego and Maestro Bartolomé [11].  It has been a permanent exhibition at the UAMA since September 2008 [12]. Other highlights of UAMA are The Visitation by the Master of the Catholic Kinds, Jackson Pollack's Number 20, Mark Rothko's Green on Blue (Earth-Green and White), and Red Canna by Georgia O'Keeffe [4].


(Image taken on personal phone)

(Image found on this site)


In 1979, Jacques Lipchitz sketches and models are given by the Jacques and Yulla Lipchitz Foundation. That same year also started the docent program for volunteer guides. In 1981, the UAMA is given the American Alliance of Museums awards accreditation—one of only 12 museums in Arizona to be recognized for highest award of excellence [5].

 The Partners circle, a community-based friends' organization was established in 1991. Its goal is to assist the Museum in fulfilling its mission to engage diverse audiences, inspire critical dialogue, and champion art as essential to our lives by use of fundraisers and educational programs [6]. In 2007, the Archive for the Visual Arts was founded with gifts of artwork by illustrator Robert McCall [5]. The Archive's goal is to support the study of creativity and document the motivations that inspire individual artists [7].

In 1985 a priceless oil painting—"Woman-Orchre" a William de Kooning worth about $100 million—was stolen from the UAMA by a couple. Officials believed the thieves distracted a guard, cut the painting from the frame, and rolled it up, carrying it out of the museum under a coat. It was found 32 years later, August 2015, as part of an estate sale in New Mexico [8]. It has since been returned to the UAMA. The UAMA is currently seeking donations for the de Kooning Fund and the UAMA is having a pre-conservation revealing event of the de Kooning on March 17th 2019 [9].


(Image found on this site)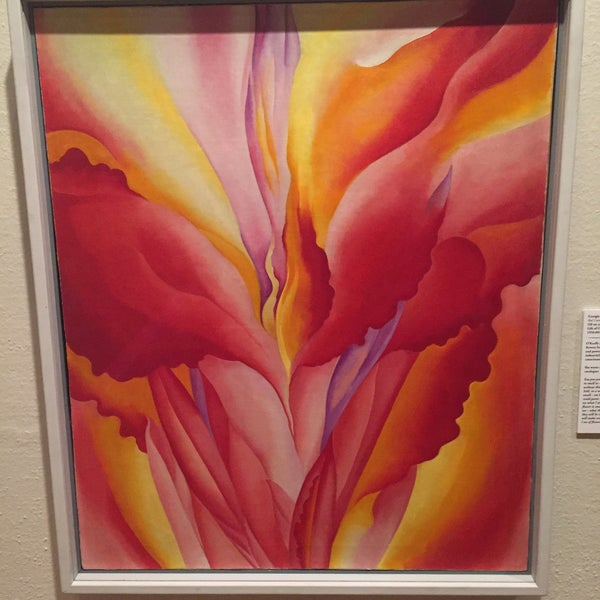 (Image credit to /foursquare.com/v/university-of-arizona-museum-of-art/4b79956df964a5204c032fe3?openPhotoId=58c19061e309e16736b180c6)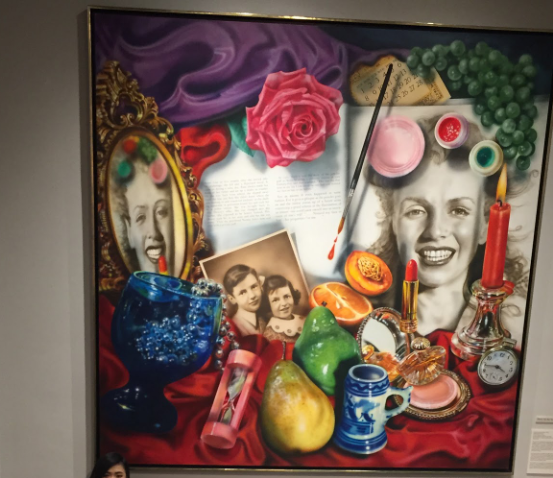 (Image taken on personal phone by Jenny Nguyen)
This piece is called Marilyn. It covers up most of the wall when heading up to the second floor. The size scale is enormous and definitely  fascinating to view in person.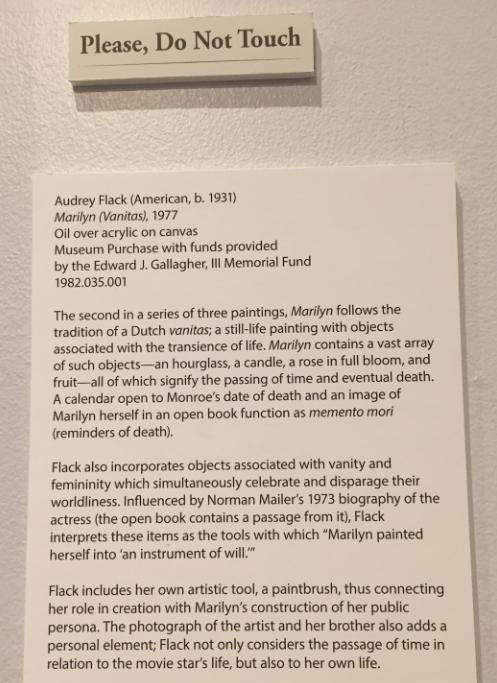 (Image taken on personal phone by Jenny Nguyen, description of the piece above)
 

Collections [10]
 
Samuel H. Kress Collection
European paintings and sculpture from the 14th through 19th Century, including the 26-panel altarpiece of the cathedral of Ciudad Rodrigo, Spain, by Fernando Gallego and Maestro Bartolomé and their workshops. Other artists included in this collection are Vittore Carpaccio, Jusepe de Ribera, Domenico Tintoretto, Giovanni Battista Tiepolo, Horace Vernet and Elisabeth Vigée-Lebrun [13].


C. Leonard Pfeiffer Collection
Contains American artists like Isabel Bishop, Edward Hopper, and Jacob Lawrence from the 1920s through the 1940s.


Edward J. Gallagher III Memorial Collection
More than 200 European and American paintings, sculpture and artwork with a particular interest in Modern Art. Some of the artists included are Aristide Maillol, Jackson Pollock, and Mark Rothko.
 
Jacques and Yulla Lipchitz Collection: Sketches and Models
This collection was donated by the artist's widow and includes 60 plaster and clay models, various tools from the artist's studio, numerous portrait busts, and several fully-realized sculptures.


Works Progress Administration-Federal Art Project Collection (WPA-FAP)
Paintings, prints, and sculptures from the Great Depression era totaling in approximately 300 pieces.


Mr. and Mrs. William A. Small, Jr. Collection
Holds 27 paintings, drawings and sculpture by European and American artists of the 20th Century.


Edward J. Gallagher, III Memorial Bequest
An endowment fund established for the care and growth of the Museum's collection. This has allowed the UAMA to augment its holdings with select works by such diverse artists such as Honoré Daumier, Helen Frankenthaler, and Rembrandt van Rijn.


Archive of Visual Arts
Collects, preserves and provides access to the original papers of artists.
 

Contact[14]

University of Arizona Museum of Art & Archive of Visual Arts
Street Address:
1031 North Olive Road
Tucson, AZ 85721-0002
Email: [email protected]
If you are interested in scheduling a school tour, please use this form. 
Mailing Address:
P.O. Box 210002
Tucson, AZ 85721-0002
Phone: 520-621-7567
Fax: 520-621-8770


Sources 


[1] https://uarizona.pastperfectonline.com/webobject
[2] https://artmuseum.arizona.edu/collections/about
[3] https://artmuseum.arizona.edu/visit/hours-location
[4] https://research.arizona.edu/learn-more/ua-museum-art
[5] https://artmuseum.arizona.edu/history-of-the-museum
[6] https://artmuseum.arizona.edu/giving-opportunities/partners
[7] https://artmuseum.arizona.edu/about-the-archives
[8] https://www.azcentral.com/story/news/local/arizona-best-reads/2018/08/01/art-heist-woman-ochre-clues-emerge-willem-de-kooning-painting-recovered/789652002/
[9] https://artmuseum.arizona.edu/events/event/de-kooning-revealed
[10] https://artmuseum.arizona.edu/collections/about
[11] https://artmuseum.arizona.edu/events/event/fernando-gallego-and-his-workshop
[12] https://artmuseum.arizona.edu/exhibitions/current-exhibitions
[13]https://web.archive.org/web/20110719135838/http://artmuseum.arizona.edu/collections.shtml
[14]  https://artmuseum.arizona.edu/contact