The University of Arizona Poetry Center is a literary institution located at 1508 E Helen St. in Tucson, Arizona that serves to bring the people of Southern Arizona an expansive collection of poetry and literature with the partnership of the University of Arizona and its College of Humanities. Since its founding in 1960, the 17,500-square-foot institution is one of the leading curators in the southwest and plays an active part in helping to grow and spread the word of poetry, literary arts, and the humanities.1 Pulitzer Prize and National Book Award winners and poets have and give seminars on literature, lectures on poetry, hold performances, and outreach events for writers of all ages and backgrounds. The vast collections of poems are held primarily in the Helen S. Schaefer Building, named after Dr. Helen S. Schaefer, who was a staunch supporter of the arts. No university affiliation is required to enter the building; entrance is free, and all visitors are welcome during normal business hours. The 50,000 volume Poetry Center library collection at the institution is a non-lending open-shelf library, therefore visitors are able to access materials so long as the materials stay in the library at all times.2 Additionally, researchers are able to access the Poetry Center's Archival Collections, as well as L. R. Benes Rare Book Room. According to the website, the mission of the Poetry Center is to "To advance a diverse and robust literary culture that serves a local-to-global spectrum of writers, readers, and new audiences for poetry and the literary arts."3
A Virtual Tour of the Poetry Center
---
*FALL 2020 UPDATE*
The Poetry Center Library will remain closed to the public for the fall semester.
Location
The University of Arizona Poetry Center
1508 E. Helen Street
Tucson, Arizona 85721-0150
520-626-3765
520-626-5566 (FAX)
[email protected]
Hours
Sundays and Mondays - Closed
Tuesdays - 9:00 a.m. to 6:00 p.m.
Wednesdays - 9:00 a.m. to 6:00 p.m.
Thursdays - 9:00 a.m. to 8:00 p.m.
Fridays - 9:00 a.m. to 5:00 p.m.
Saturdays - 9:00 a.m. to 3:00 p.m.
Parking
Free parking is available in Zone 1 lots around the Poetry Center after 5:00 p.m. on weekdays and all day on weekends. Paid parking is also available in the Highland Avenue Garage, across the street from the Poetry Center.
---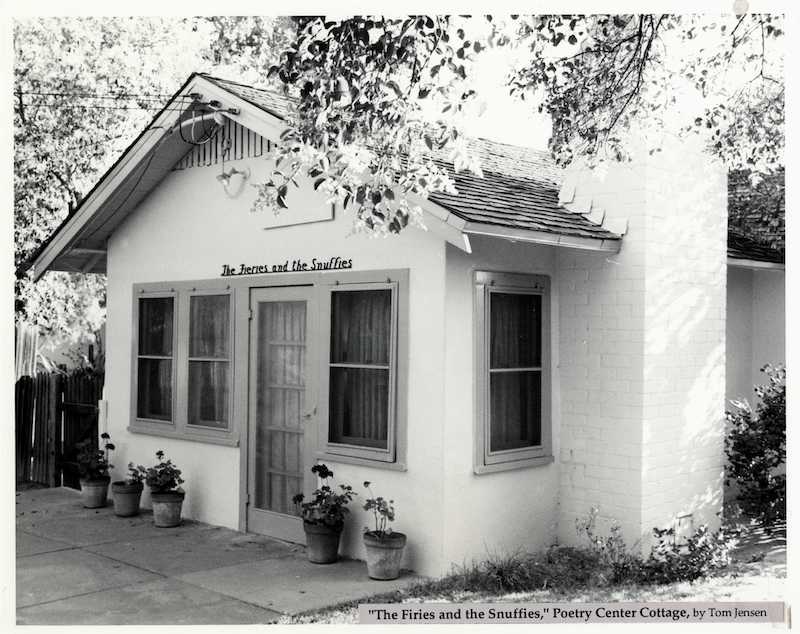 The Original Building - 1960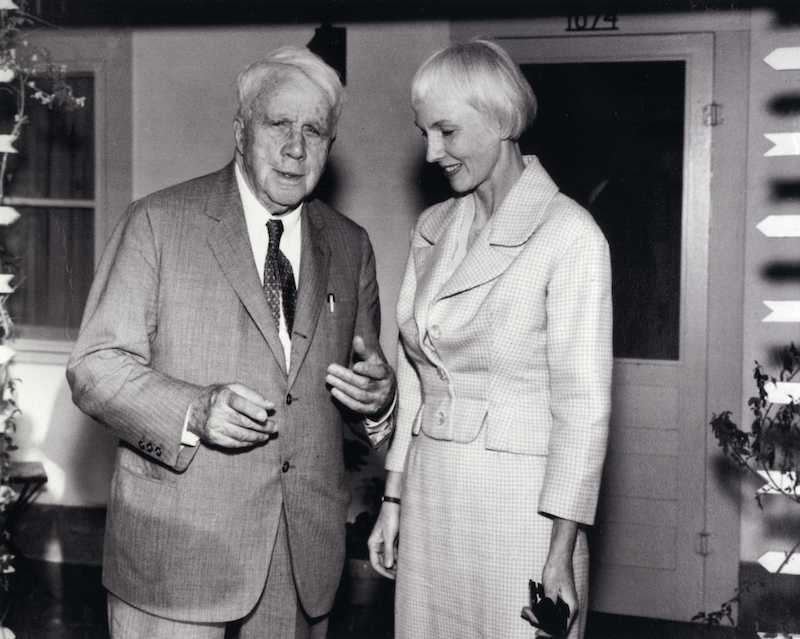 Robert Frost and Ruth Stephan - Nov. 16, 1960
     The poetry center was founded by Ruth Walgreen Stephan, a writer, poet, filmmaker and philanthropist. After attending Northwestern college, Stephan would embark on writing multiple publications and poems with some of her most well-known work being Prelude to Poetry, The Flight, and The Singing Mountaineers. Stephan had visited Peru and Japan, but frequently visited Tucson in the 1940s, and in 1960 presented a property to the University of Arizona that housed a modest collection of poetry from around the world translated in English. To maintain the collection, she lived in a cottage nearby the university's campus. During this period, she spent much of her time curating the collection and donating books, land, and funds to help organize the building as a welcoming environment.    
        On November 16, 1960, Robert Frost arrived at the Poetry Center to read for the building's dedication, alongside Stephan, Arizona Congressman Stewart Udall, and University President Richard Harvill. It was here where Congressman Udall asked Frost to read at the upcoming inauguration of future President of the United States, John F. Kennedy. The Poetry Center's Reading and Lecture Series began in 1962 with the help of Stanley Kunitz. From that point on, Ruth Walgreen Stephan served on the advisory board until her death in 1974. Since Stephan's passing, the collection at the poetry center has only gotten bigger, with additional funding from the University of Arizona and the College of Humanities.
        In 2000, the campaign to build a permanent facility was drafted as a part of Campaign Arizona, the university's billion-dollar effort to grow its educational reach. After nearly 50 years, the University of Arizona partnered with Line and Space LLC, a local Tucson-based architectural firm to create an "ecologically-sound" contemporary building aimed for reading, teaching, archiving, researching, and discussing.4According to the firm, the building is organized in a way that brings Zen and comfort in a modern setting. The building has a garden, outside gathering spaces, and indoor meeting rooms. The University of Arizona Poetry Center has been named as one of the nation's notable Landmark Academic Libraries by Library Journal Magazine.
        In August 2007, construction was completed, and the facility is named after Helen S. Schaefer, who served as the chair of the College of Humanities Advisory Board since 1994 and on the Poetry Center Development Committee since 1998. The project cost approximately $6.8 million dollars, with $1.9 million coming from the University.5 Since its completion, the poetry center continues to add 2,000 items every year to its collection and organizes workshops for writers and academic support for both undergraduate and graduate programs. The University of Arizona Helen S. Schaefer Poetry Center has been around for more than 60 years and continues to support the growing literary movement of Southern Arizona.
---
VOCA - VOCA is the University of Arizona's personal audiovisual archive that stores, plays, and distributes recordings of poetry from various poets who have read and spoken at the Poetry Center. The earliest recording dates back from 1963 by Robert Creeley! Anyone can sign up through their website and it is free to use. 
The Ruth Stephan and Myrtle Walgreen Collection - One of the most extensive collections of English contemporary poetry in the United States. Much of the collection is from the latter half of the 20th century to present day. According to their website, the collection includes "single-author monographs, anthologies, literary journals, rare books, limited-edition books, artist-made books, chapbooks, broadsides, photographs, prose and critical works by poets, and audiovisual recordings. There is an open-shelf reference collection including dictionaries, directories, handbooks, encyclopedias, biographies, and bibliographies."

There are 50,000 volumes of poetry.
29,000 issues of journals and periodicals with 250 active subscriptions
 1,100 broadsides
Over 5,000 photographs
Upwards of 1,500 audiovisual recordings, with 900 which can be found on VOCA

LaVerne Harrell Clark Photographic Collection - A collection of the poets who read at the center ranging from 1960 to now. You can look at the photographs right here.
Exhibitions - The exhibits are presented in the Larry Ingalls Gallery. You can see them online right here.
---
Additional Information
The Poetry Center offers visitors much more than poetry; there is a dedicated section for children for them to write, learn, and explore poetry. Additional workshops are held at the poetry center, for both adults and children. Furthermore, one can check out their blog and read about what the poetry center is writing about and keep up with their current events. You can also visit their Twitter, Instagram, and YouTube page for more information.
---
Sources
https://www.lineandspace.com/work/university-of-arizona-poetry-center
https://en.wikipedia.org/wiki/University_of_Arizona_Poetry_Center
https://www.pw.org/reading_venues/university_of_arizona_poetry_center
https://news.arizona.edu/story/helen-schaefers-name-grace-new-poetry-center
https://www.archdaily.com/163571/university-of-arizona-poetry-center-line-and-space