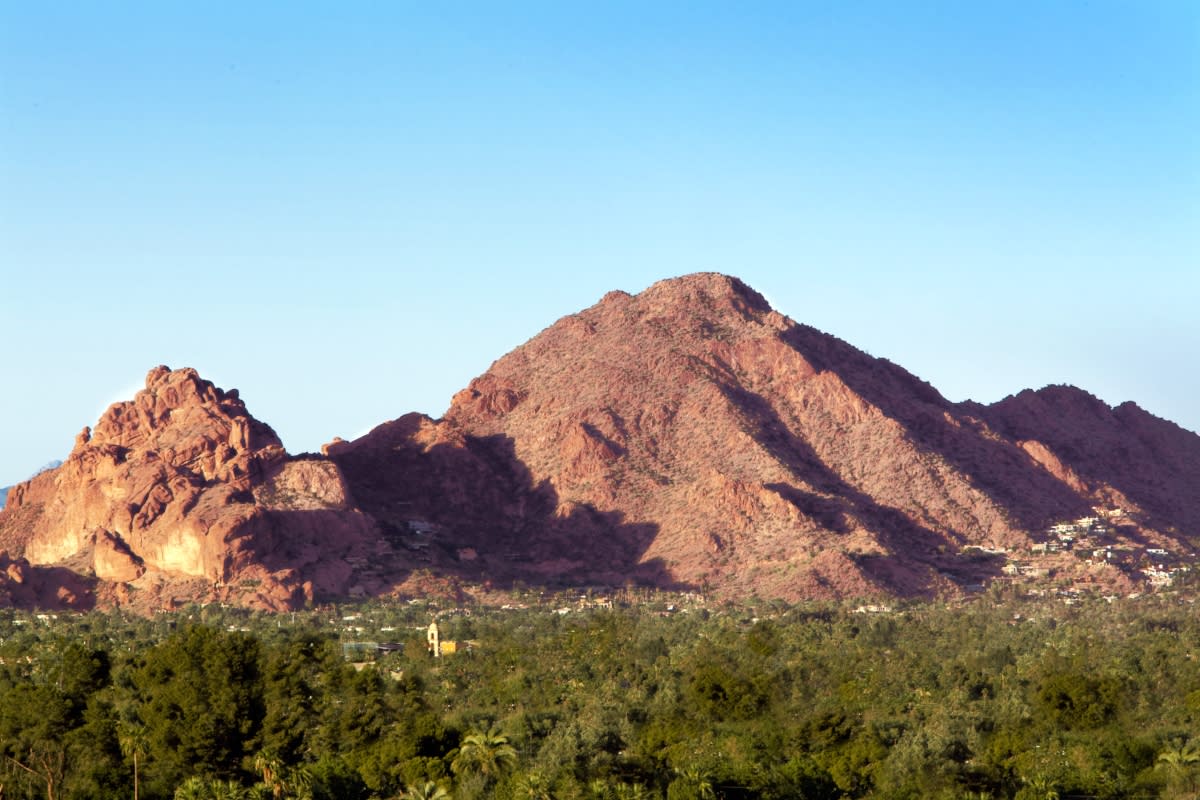 History
Camelback Mountain has been one of Phoenix Arizona's most historical landmarks since the 1900s. Before becoming one of the most popular hiking spots in Phoenix the land of granite and sandstone belonged to the Hohokam Indians because they found a cave where they presumed this tribe was used as a sacred site. The land was going to be taken away from the Indian's, but Senator Goldwater created higher elevation against development which allowed them to save Camelback and allow it to become what it is today. Camelback got its name because it has two different peaks one in which it is the hump of a camel and the other resembles the head, the whole mountain resembles a kneeling camel. Camelback is home to different wildlife animals and has two different trails where people can hike up. This mountain range is also the backyard for people who live in the area. 
Importance to the community
Camelback Mountain offers many attractions to the Arizona natives. With respect to these tribes, many environmentalists have worked on keeping the mountain in good shape. During the spring, hiking is at its busiest hour due to the cool weather and blossoming trees. While there are a large variety of mountains to hike in Arizona, Camelback remains as one of the top tourist attractions. It provides an amazing outdoor adventure for family and friends and is a free way to exercise whenever one chooses! I would highly advise checking out this beautiful landmark if you are not from Arizona or on vacation with friends or family. Each year during the holiday season, members of the community hike to the top of the mountain with a Christmas tree, where Santa sits and greets all the young boys and girls who were out hiking that day. This Mountain is also important to Phoenix because it is the backyard of some homes near the mountain. They encourage every hiker to keep their trash with them and throw it away in an actual trash can instead of leaving it on the trail. This is also important because of how many wildlife animals live in the mountain area. There is also hotels surrounding this mountain that have a view of the mountain from different angles. Camelback is a very iconic mountain for phoenix and a beautiful sight to take pictures at.
 
Trail Information 
More than 700,000 people climb up two different popular trails each year. It is one of the most popular hikes in Phoenix and even is the trail to hike when people are visiting Phoenix. There is two different trails to hike, Echo Canyon trail and the cholla trail. Echo Canyon trail is 1.23 miles long and takes about 2 hours to hike up and back down. This trail starts off steep then leads to a rail portion where it is the steepest on the trail. It then leads to the second railing and leads into huge rocks that have a great view all the way to the top of the mountain. There are not many parking spots available for Echo trail, it is important to arrive early to ensure a spot otherwise you might end up hiking Cholla trail. The next trail, Cholla is 1.42 miles and also takes around 2 hours to hike, 3 if the hiker is more experienced. In order to hike this trail, you must park on the street and walk up to where the trail actually begins it is a pretty steep hike and continues to incline as you walk up. There is a helicopter pad where helicopters can land to help hikers if they are in danger. After this pad the final stretch to the top is very intense due to the fact that there is a lot of climbing points. Both of these climbs are very intense, but the top of the mountain view is very worth it. These hikes can seem scary but the more experienced you are as a hiker the easier it will be to hike this mountain. Do not be afraid the climb is definitely worth the view.
Hiking Safety
There is a lot of safety points to follow when it comes to hiking Camelback. In Arizona it is very hot all the time besides the mornings in the cooler months. It is important to wake up around 5-6am in order to ensure it is not 110 degrees outside. Every year there a lot of people who have to be helicoptered out of the mountain's because they go hiking at the wrong times of day. It is important to hydrate the day before the hike and to continue hydrating all throughout the hike. Since both of these hikes are over a mile and contain steep inclines it can be very difficult depending on what lever of hiker a person it. It is also important to take healthy snacks with you in case you get hungry on the way up the trails. Fruits that are easy to carry such as apples and bananas and granola bars where you can carry the wrapper until you get back to the bottom of the mountain. They do not allow dogs on these trails because of how steep the climb are. There are other trails in the Phoenix area who allow dogs to join the hike. One more important note about hiking is that it is important to ensure that you have enough time to get back down the mountain before sunset. This is due to the fact that the trails do not have lights and especially during the fall seasons the nights get longer and the sunsets very early. It is dangerous to hike at night because you cannot see when the rocks are on different levels and this could cause hikers to tumble down the mountain or off the side of the mountain. It is important you know what level hiker you are before attempting Camelback because there are easier hikes in the Phoenix area. Grab your hiking shoes, a bottle of water, a snack, and get in a great workout!
References
http://climbcamelback.com/
https://www.sanctuaryoncamelback.com/camelback-mountain/#:~:text=Camelback%20Mountain%20was%20once%20a,homage%20to%20that%20holy%20history.
https://www.hikecamelback.com/camelback-history.html
https://www.phoenixnewtimes.com/arts/camelback-mountain-combines-beauty-history-and-adventure-in-one-fragile-phoenix-park-6562262
https://www.google.com/search?q=camelback+mountain&rlz=1C5CHFA_enUS755US755&sxsrf=ALeKk00gCpEs3_RlyUrrSAFGzUdXnyy3RA:1602720538164&source=lnms&tbm=isch&sa=X&ved=2ahUKEwiWxueip7XsAhUBt54KHZBZCe0Q_AUoAXoECDIQAw&biw=1440&bih=732#imgrc=BgsvyRiWCt86iM
https://www.google.com/search?q=camelback+mountain+echo+trail&tbm=isch&ved=2ahUKEwiS9vKjp7XsAhWPIzQIHembD10Q2-cCegQIABAA&oq=camelback+mountain+e&gs_lcp=CgNpbWcQARgAMgIIADICCAAyAggAMgIIADIECAAQGDIECAAQGDIECAAQGDIECAAQGDIECAAQGDIECAAQGDoECAAQQ1Dm5whYi_sIYKmECWgAcAB4AIABb4gBzAGSAQMxLjGYAQCgAQGqAQtnd3Mtd2l6LWltZ8ABAQ&sclient=img&ei=HJOHX5L4Go_H0PEP6be-6AU&bih=732&biw=1440&rlz=1C5CHFA_enUS755US755#imgrc=ZMFaJfkG5gEg4M
https://www.google.com/search?q=camelback+mountain&rlz=1C5CHFA_enUS755US755&sxsrf=ALeKk00gCpEs3_RlyUrrSAFGzUdXnyy3RA:1602720538164&source=lnms&tbm=isch&sa=X&ved=2ahUKEwiWxueip7XsAhUBt54KHZBZCe0Q_AUoAXoECDIQAw&biw=1440&bih=732#imgrc=x1pAostFJ09q8M
https://www.google.com/search?q=scottsdale+camelback+mountain+sunset&tbm=isch&rlz=1C5CHFA_enUS755US755&hl=en&sa=X&ved=2ahUKEwjf6qX9p7XsAhWWFzQIHZswCmYQrNwCKAB6BQgBEOwB&biw=1440&bih=732#imgrc=we5sJjDf3JBAhM