Photo provided by Google Images
Image captured by iPhone 6 while hiking Cholla Trail.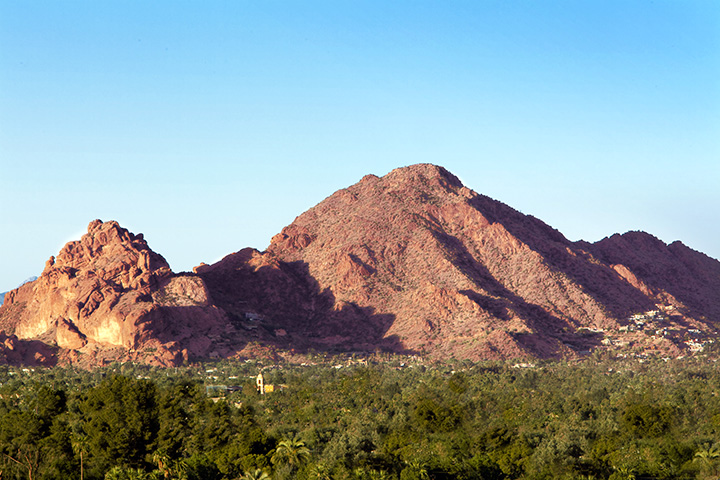 Photo provided by Google Images
 History
 Camelback Mountain has been one of Phoenix Arizona's most historical landmarks since the 1900s. According to the City of Phoenix, Camelback Mountain is regularly ranked one of the nation's top hiking destinations for avid hikers (Phoenix.gov). The name, "Camelback Mountain," originated from its shape and structure that represents the two humps of a camel's back. According to geologists, the granite rock and sandstone that make up the mountain date back to over 30 million years. Before the development that occurred around the mountain, such as homes, buildings, restaurants, etc., the land belonged to the Salt River Pima and Maricopa Indian tribes. It wasn't until the 1960s that all the land surrounding the historical landmark had been sold to private interests. Due to the Another part about Camelback Mountain is the fact that there is a famous landmark on the mountain, as well. Copenhaver Castle was built in 1967 by Dr. Mort Copenhaver. Today, the mountain is a free service to the community, where individuals can enjoy the desert life by hiking the two most popular trails: Echo Canyon and the Cholla trail. Located in the heart of Paradise Valley, Camelback offers amazing 360 views of Phoenix and Scottsdale and is an outdoor experience in the valley of the sun.
Importance to the community
Camelback Mountain offers many attractions to the Arizona natives. With respect to these tribes, many environmentalists have worked on keeping the mountain in good shape. During the spring, hiking is at its busiest hour due to the cool weather and blossoming trees. While there are a large variety of mountains to hike in Arizona, Camelback remains as one of the top tourist attractions. It provides an amazing outdoor adventure for family and friends and is a free way to exercise whenever one chooses! I would highly advise checking out this beautiful landmark if you are not from Arizona or on vacation with friends or family. Each year during the holiday season, members of the community hike to the top of the mountain with a Christmas tree, where Santa sits and greets all the young boys and girls who were out hiking that day.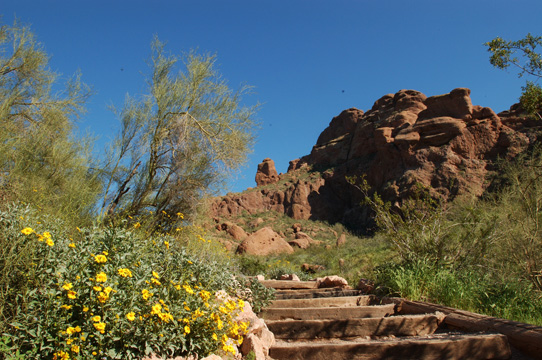 Photo provided by Google Images 
Photo provided by Google Images 
Trail Information 
Photo provided by Google Images 
Cholla Trail: According to phoenix.gov, the Cholla trail is 1.50 miles in distance and 1,420 ft in elevation. Rated as extremely difficult, this trail starts at the back of the "hump" and works its way towards the head. I have hiked this trail many times and find it to be better than the Echo Canyon trail because it is not as steep. Large rocks, dirt, and limestone are all a part of the trail and make it difficult at some stages. I highly advise wearing shoes with high traction to avoid slipping on the slick limestone rocks. 
Echo Canyon Trail: According to phoenix.gov, the Echo Canyon trail is 1.2 miles in distance and 1,400 ft in elevation. This trail is also classified as an extremely difficult trail, however, it provides hikers with guard rails to help them up some of the steepest areas of the trail. In addition, phoenix.gov states that "Echo Canyon is home to a variety of flora and fauna, including the famous Saguaro. Echo Canyon conveniently has water fountains and bathrooms at the start of the trail. Additionally, hikers may observe smaller wildlife such as cottontail rabbits, antelope squirrels, and occasionally a rattlesnake" (phoenix.gov).
Hiking Safety
With Arizona being named "the valley of the sun," it is especially important that you follow the rules provided by the park rangers when considering hiking Camelback Mountain. According to the safety precautions that can be found on this link, the trails are both labeled as extremely difficult for several reasons. With such a short distance to travel, the elevation can cause one to feel faint, dizzy, dehydrated, etc. It is important to prepare yourselves with a meal and water before attempting to hike one of these trails. If you are hiking on a hot day, it is highly advised that you bring multiple water bottles with you as well as applying a large amount of sunscreen. Many Valley residents have been evacuated by air medical services from the mountain because they either did not stay on the trail, drink enough water, or did not track the time of sunset before attempting to hike. If you plan on hiking, try and go with a buddy in case an emergency occurs. The park rangers are at your assistance and are ready to answer any kind of concerns or questions you may have before starting your hike. Do not hesitate to ask for help. 
References
http://blog.caravan.com/camelback-mountain/
http://arizonahikingadventures.com/682/camelback-mountain-phoenix-the-busiest-hike-and-dangers/
https://www.phoenix.gov/parks/trails/locations/camelback-mountain
https://goo.gl/images/8q4n1z
https://goo.gl/images/ZTpmdT
https://goo.gl/images/Nk8bmV
https://goo.gl/images/avjR3a
http://www.surgent.net/highpoints/az/range/camelback.html
http://www.steelcactus.com/CAMELBACK.html