Hacienda Del Sol Guest Ranch (HDS) is a sprawling 43 acre property that has had a foothold in Tucson, Arizona for many decades. Its longevity and status as a city fixture is impressive but it's hardly recognizable from its humble beginnings as it has continually evolved over the decades.
Spanish Colonial in style, the architecture on the property was inspired by 18th century dwellings. While the infrastructure has been around since 1929, it hasn't always served as a hotel. The original Owners, Helen and John Murphey devoted their own handiwork to the completion of the original ranch to serve as a boarding school and an oasis in a post industrial revolution America. From 1930 to 1941 HDS operated as a college preparatory school for girls, which it housed 28 at a time. Advertising nationally to attract clients, HDS attracted the attention of prominent families like Vanderbilt, Maxwell, Pillsbury, Campbell, Spalding and more. The Parents of these young women paid top dollar to get their daughters out of big cities and away from distraction.
In the late 1930's architect Josias Joesler was commissioned to rebuild areas of the resort that had been damaged by fire. After the multi year process and further renovation HDS shifted its mission, to be a home away from home as a guest ranch. Beginning in 1948, the ranch began building a reputation as a destination for silver screen actors traveling to the southwest. Names like Clark Gable, Katherine Hepburn, Spencer Tracy, and John Wayne adorn the guestbook for many years.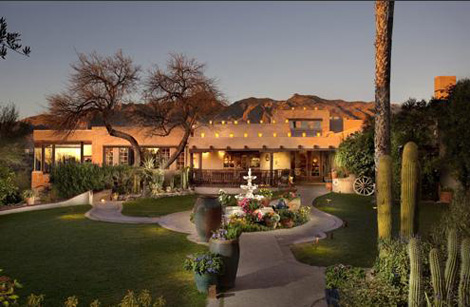 Sadly the property was not always kept in great shape and after changing hands a few times it was forgotten and fell into disrepair. It wasn't until 1995 when a group of Tucson based investors took over management. Taking special care to retain the original integrity and beauty of the architecture and landscape, the true character of the ranch has been preserved and restored. In 1997 HDS added The Grill, a fine dining restaurant that occupies the area in the original dining room and kitchen. The restaurant has received many accolades for its menu and wine and spirit program.
The most recent improvements to the facility are the most extensive and groundbreaking. In February 2016 a multimillion dollar endeavor doubled the amount of rooms, added an infinity pool overlooking the Catalina mountains, and saw the completion of a 250 seat Casa Luna Ballroom.
Sources
Tang, Liz. "A Home Away From Home." Arizona Daily Star [Tucson] Nov. 2000. Web.*
*source material was later edited in house for promotional purposes and not republished. 
Images courtesy of Trip Advisor 
Information also gathered from a historical tour provided of the property