The Manning house is another great place when visiting Tucson Az. There is other places to visit while here for example San Xavier Mission, Old Tucson and many other places but if you come to Tucson and don't stop by and see the Manning House, you did not see it all! Here is a little bit of history on this beautiful and historic place.
This is Levi Manning. Mr. Manning was born in 1864 in North Carolina. Mr Manning and his fraternity brother acquired a circus elephant, the elephant escaped and when Levi's mother heard of what was happening he advised Levi to leave town before his dad found out so he came to Tucson Az. Mr. Manning worked for The Daily Arizona Citizen and later The Arizona Daily Star and then he bought a controlling interest in the Tucson Ice & Electric Light Company and worked as a manager for two years earning a lot of money. Levi married Gussie O'Connell in 1898. Manning was elected mayor on a anti-gambling ticket. Though gambling was legal in territorial Arizona in 1905. Mr. Manning built The Historic Manning house was built after the time Manning was the mayor of Tucson. Levi Manning died in august 1935.
The Historic Manning House was built between 1907 and 1908 by Levi Howell Manning, who was the Mayor of Tucson. The mansion it's 37,000 Sq ft and it's on a 5.2 acres land. The Manning family and their servants  were the first people who resided here. Located at 450 W Pso Redondo # 212, Tucson, AZ 85701 this mansion is in Central Tucson. Gussie Manning, Mr. Manning's wife, gave orders to paint exotic birds and flowers to a Mexican-born artist , Salvador Corona. The architecture of this house includes Spanish, Colonial, Territorial, Italian Renaissance and Prairie style.  The house has a library, it has round walls and a stair case that guides you to the roof for better viewing of the surroundings. This mansion had a swimming pool and a stable. The Manning House fell into a state of disrepair and in the 1980's and was bought and repaired in 1997 by Colleen  Concannon.  Nowadays The Manning House belongs to El Rio Health Center and will become their headquarters office.
This house has had several owners. After Howell Manning passed away, his son inherited the property but in 1949 Mr. Manning relocated his family to a different side of town, here in Tucson, Az and sold the house to the Elks Club. In 1979, the house was sold to the city of Tucson, then the city sold it to  Canadian Developer in 1984. Another family, the Conconnon's purchased the property in 1997 and made it into a meeting and event center. In 2012 The Manning House was closed again and its now being bought by El Rio Health Center. El Rio bought this property for 11.1 millions and its  headquartes moved in officially on February 7th, 2018. The break room for the employees is the former swimming pool , a wonderful and peaceful looking room, isn't it?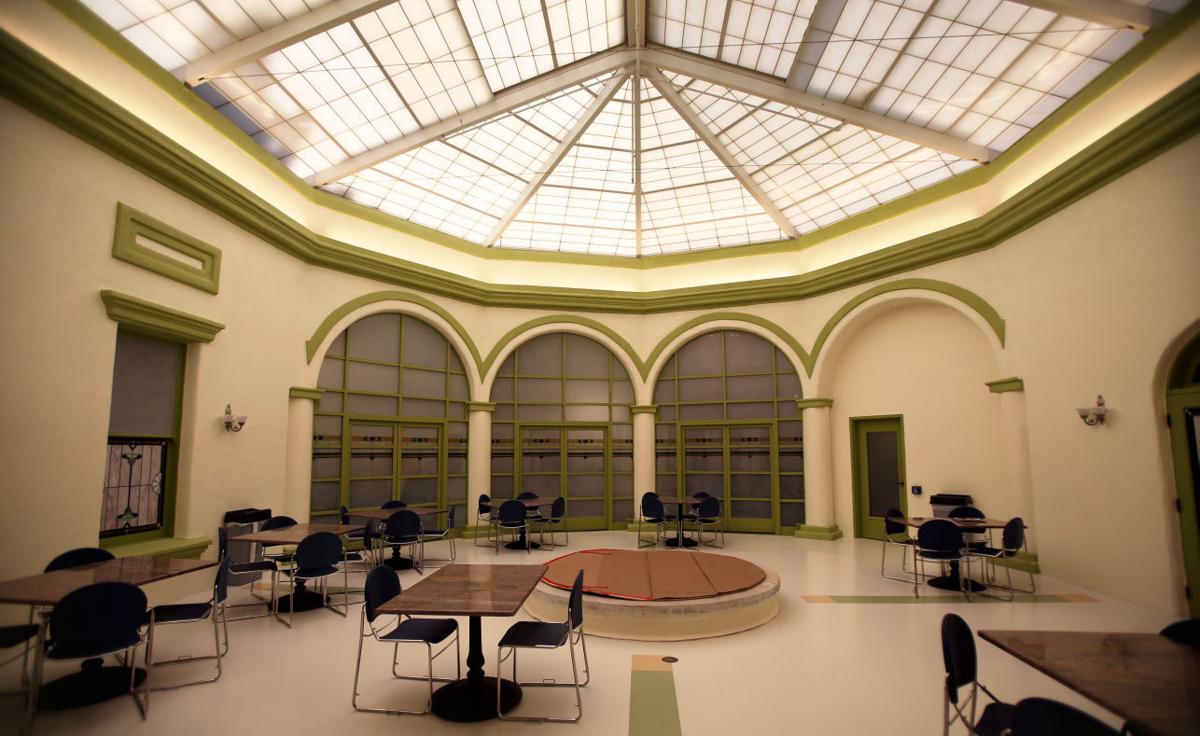 According to witnesses the house seem to be haunted. People believe that they have seen a man walking up and down the hallways, others say that they have seen Mr. Manning drinking at the bar, others say that they have seen faces materializing on the mirrors. Maybe with all the renovations that have been made to the house, it has caused for Mr. Manning and his family to reappear to show displeasure of all the changes made at the Manning House.  After all this is the Manning's house!
The Manning House was designed by architect Henry Trost. The Manning House had several rooms that were used to host events and here are just some of the names, Circa, Rotunda and Atria. My daughter's quinceanera's/sweet 15's reception was hosted here, in one of these rooms and it was one of the last events hosted at The Manning House before they closed in 2012. The manning house its a beautiful historic place to visit here in Tucson AZ. No more events are being hosted but its still up and going, now being established as the headquarters of El Rio Health Center . 
https://mysteriousheartland.com/2015/05/27/tucsons-mysterious-manning-house/
http://tucson.com/gallery/manning-house-then-and-now/collection_9421042a-98e5-11e2-b083-0019bb2963f4.html
http://tucson.com/business/local/tucson-s-manning-house-closing-as-event-center-goes-up/article_e901efed-0b2a-5291-998a-6e3ffe0f9c05.html
http://tucson.com/lifestyles/health-med-fit/el-rio-officially-moves-into-downtown-s-manning-house/article_e34b6202-ce20-11e5-ae7a-cff6864f49ac.html
https://en.wikipedia.org/wiki/Levi_Manning