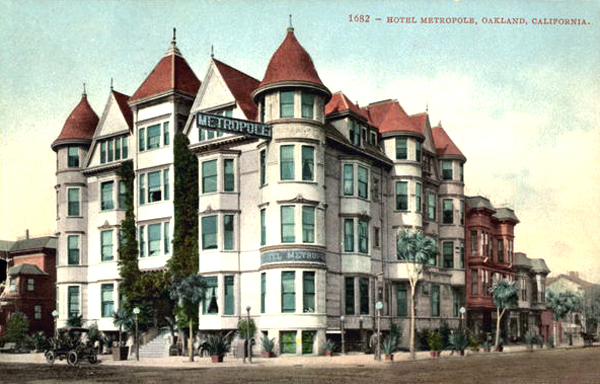 Metropole Hotel ca. 1915, located on U.S. Route 40 in Oakland.
The Metropole Hotel was located at the NW corner of 13th and Jefferson. It was owned by Robert Smilie, a builder and real estate developer, and opened September 1, 1892. 5
It was constructed with Remillard bricks, and lavishly appointed. It included a Hall hydro-steam elevator. 5
According to the San Francisco Call in an article published on May 13, 1913:
The Metropole property has an interesting history, having changed hands but four times since it was secured by grant from the United States to the famous Peralta family. From the Peralta family it was transferred to the Bigelow estate, from the Bigelow interests to other owners from whom R.H. Smilie purchased it to build upon it the Metropole hotel. The hotel building cost in the neighborhood of $70,000 and was, for a long time, Oakland's principal hotel. 1
It was sold in 1913 for $100,000 from the Smilie estate to Frank W. Bilger of Blake and Bilger (see Bilger Quarry), and John W. Phillips of the Central National Bank of Oakland. (see article for more info) 1
Men of the Pacific Coast 1902-1903
In 1903, Richard M. Briare was the proprietor. The staff included:
Richard M. Briare - proprietor
Milton Balcom - clerk
Jules Boulanger - chef
Frank Doyle - clerk
Alex Konsta - bookkeeper
Anton Lex - cook
Patrick Maher - waiter
Earle McGarl - employee
Robert W. Miller - bookkeeper
Quite a few people lived at the Metropole, including Daniel E. Easterbrook.
1902 ad
Like many other large wooden structures in Oakland, it was destroyed by fire in October 1918. 4 See Oakland Fire Department by Capt. Geoffrey Hunter, Arcadia Series. 2
from 1896 Illustrated Directory 3
A black plume of smoke rises into the summer sky in this October 1918 photograph, as fire rages through the fifth floor of the Metropole Hotel at Thirteenth and Jefferson Streets. Several ladders have been thrown to the upper floors as Oakland firefighters try vainly to stop the blaze. A Seagrave "white wagon" can be seen parked in front of the doomed hotel as a huge crowd gathers to watch the spectacle. (Courtesy of the Oakland Fire Department.)
1912 Sanborn excerpt
Links and References